**KNOWN ISSUE**
Currently, Alliance Prestige (as it concerns Alliance Quests) is not taking Relic Prestige into account. If possible, we are working to address this for the next round of Alliance Quests but will have more information for you when it is available.
Mr. Fantastic + Galan synergy not working for Mr. F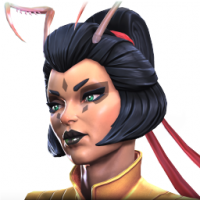 Kd101
Posts: 121
★
So I loved the new synergy for Mr. Fantastic with Galan and it was awesome to use and have fun with… I began to use Mr. Fantastic with it and even took him to R3 because of it. Sadly I noticed today while doing cav EQ it wasn't working. Tried it out in realm of legends… it turns out it isn't working at all. Is this intentional?