Results of Luke Cage and Red Hulk Beta Test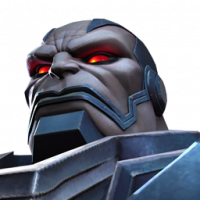 Kabam Miike
Posts: 6,549
Administrator ›
Summoners,

We want to take a moment to thank all of our Summoners that took part in our first ever Beta. This was a tremendous undertaking, and even with a few hiccups, we are very happy with the success of this first Beta Test! We want to thank each and every one of your that took part in the Beta, and provided us the meaningful feedback that we used to make our final decisions on the potential Balance Updates to Red Hulk and Luke Cage, as well as the Beta Program itself.

You gave use lots of feedback, and we parsed through it all before making our decisions on how to proceed with our plans.

Originally, we looked at all of the data we gathered during the Beta Test, and considered reducing the Buff to Luke Cage slightly, but the feedback we got from you all indicated that you guys did not think that was necessary, with an overwhelming majority of you believing that his potential damage output was much better where it was, as well as some advocating for more damage as well.

While there was also some feedback on improving Red Hulk's regeneration ability on his Sp2, we do not want Regeneration to be one of his main use cases.

In the end, after considering both our data and the feedback we received, we decided that the adjustments we had present in this test were at a good place.

We are happy to announce that we will be bringing the exact adjustments you all saw in the Beta Test to Red Hulk and Luke Cage with our 17.0 Release next week.

We would also once again like to give our apologies to all the Summoners that were not able to join the Beta after receiving an invite. We have learned quite a bit during this Beta Test period, and will be carrying those learnings forward as we strive to perform more of these Tests in the future.

Once again, thank you all for taking part in the Beta Test. It's been a long road to get to the point where we are able to conduct these with a wider audience, and we're very excited to be more of them in the future!
This discussion has been closed.