Summoners, we recently encountered an issue with the Alliance Quest Setup Phase Starting Timer that may cause the Setup Phase Starting Timer to display erroneous information, though we are working on a fix for it as quickly as possible. Additionally, if the Setup Phase does not let you plan your days in advance, you will be able to once the Event officially begins on the Alliance Quest Start date.

For clarity, the next Alliance Quest Enlistment Phase will begin on December 5 at 20:00 UTC, regardless of what the in-game timers display.

The next Alliance Quest Start will be on December 6 at 20:00 UTC. This is when Summoners should be able to enter each Map.

Thank you for your patience and understanding as we work to resolve this issue.
Daredevil netflix revamp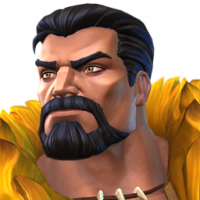 adqqedfyvr
Posts: 463
★
Just rewatched both seasons of daredevil and tbh there aren't many similarities between the version on screen and the version in the contest. Here are some ideas to improve him as a character: please add your own in the comments.

Improved evade: compared to og daredevil this is pretty useless. Surely, with his heightened senses, he needs a spiderman-style evade.

Bleed: critical hits should have a high chance at bleed. This doesn't need to be anywhere near gwenpool's, but should be decent. Specials should cause 1 or 2 bleeds.

Stun with special 3: just seems to make sense.

Deflect ability and bleed resistance: with his specially designed suit, I'd love to see some sort of bleed resistance (like beast). Also, all bullets could have a chance to deflect off of his armour and cause a bleed on the opponent. E.g. Winter soldier uses special 2 on DD and each bullet has a chance to rebound and hit ws causing a bleed on him. This could be an interesting new ability. Also knives and sword attacks could have a small chance to miss.

Guaranteed stuns with specials.

New heavy animation: spinning kick to the face. This fits more with the netflix character than a slow backflip.

Fury: Murdocks always get up. As the fight progresses and/or as Matt loses health he can gain a permanent fury charge.

Synergy: add a synergy with both iron fists, similar to the one with Luke Cage.

Hope you like my ideas and maybe Kabam will consider any kind of update to daredevil netflix.