We are currently experiencing an issue causing a delay in delivery of Summoner Advancement, the Alliance Quest event, and other 3-Day X-Men use event. We are working to resolve this, but it will likely take a few days. We will ensure that these rewards are delivered to affected Alliances. Please do not change Alliances until your rewards are delivered.
Infinity Chaos Length/Legend Run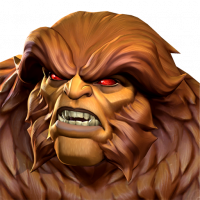 Batty_Numppo
Posts: 232
★
This EQ is incredibly long. It's most noticeable in the last map, with seven very long paths, but I feel like the whole thing is much longer somehow. Just did a legend run and was getting very frustrated to see my time go so far past the usual qualifying times. Last time I did a legend run I used my 5/65 GP in the Sentry/Void EQ and came in at 3:24, boosted but no suicides. This time I ran full boosts and full suicides and came in at 4:06!! I almost feel embarrassed to make my time public, but I want to know what others think of the length, the lack of announcement regarding it or just to see where other legend runners clock in.