Kabam - Can you give the community some information?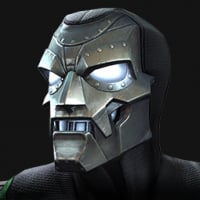 DarkestDestroyer
Posts: 2,526
★★★★
Well, just chancing my luck here, but I feel it would be great if we heard more from Kabam instead of a day before a new update or event quest.

There are tons of things I see regularly on the forums, and they either get no answer, or a "in the future"/"Pass to the game team"

Well, I am sure a lot of suggestions have been passed onto the game team, and we never hear about it, so I want to know if we can get some information on the following things, whether they are being worked on, or change is coming etc.

Solo Events:

These are now so stale! The rewards are terrible, especially considering the crystals which are part of them, the solo and greater solo crystal isn't even exciting to open, filled with items no one wants mostly...

Is there a revamp to these coming? Will the rewards be looked at? What will happen is... if the rewards are decent, more will play, more will play often to hit milestones or get rank rewards. As it stands they are just a waste for the majority, they seemed aimed at newer players...but then what do we have to play for?

XP Boosts in the crystals are worthless, why not change them for some sort of Gold Boost, BC Boost? You can do the 20% boost on all resources during summoner appreciation, so why not incorporate that? It would be great, even that little change.

I like how Vanquishing blows has made its way into the game, it's different, why not do a "GOTG Combat" so you have to use GOTG champs, X-Men Combat, Avengers Combat, maybe throw in a quirky 2* crystal of that event, so a 2* GOTG character, X-Men Character etc... there are tons of things you could implement, instead of the same old things.

3 Day Events:

Again... these just haven't changed...forever! One idea I had, was to alter the rewards based on alliance prestige or something, because 250 4* shards as the main reward for a lot of grind (Especially Arena Events) just isn't worth it, my favorite part of these are the 25 units and tier1 alpha... surely that says something? PHC shards as a reward is sad too, again for newer players that is great, but for top alliances, even middle of the bunch alliances... why not change that to suit us?

The challenges also need changed, completion, item use, AC etc, why not revamp them?

Level Increase of 70

This comes around a LOT! I also want to say, before you mention it... Increasing the Level cap, doesn't mean we need an additional mastery point! So please don't say that as a reason! We could get a bulk of gold, cats, shards, resources, bulk of refills etc... Or maybe add in a prestige system... you love titles, so that could come with titles too... think how many would want to max prestige straight away... all the refill sales you would have. XP boosts would then become relevant again for us, it's a slap in the face being handed those... if you are unwilling to swap them for a gold or BC boost, maybe take this route?

Alliance Quest Seasons

War seasons went down well, maybe it's too long, but overall there are some TOP rewards to play for and it makes each war a great battle.

Why not have an AQ seasons? Let's face it, the AQ system now is rubbish, it is just changed as and when you want... no timescale on how long it runs, all different lengths... so why not make it a set season, obviously you cannot really go up and down leaderboards, but maybe it could become like the current dungeons... everyday it gets harder, and until you cannot complete the main boss it resets... this could then give alliances the chance to earn more points than others and move up/down. I actually thought it would be a good chance to change seasons with Infinity War and using Thanos as the main boss (Maybe not as OP as event quest one though haha)

But with the resources everyone now needs, it is vital to get AQ revamped, I know you changed the minis and added Sentinels, but a change of rewards and structure to go with that is needed... I haven't even seen any Tier 6 ISO, nevermind Tier 5 Class Cats etc.

What if a Tier 3 Alpha will be needed? Players are struggling to get Tier 1s!

Co-operative Modes

Yes, it is time consuming, but I really enjoy dungeons, it's fun playing with a mate, it's funnier making him take harder fights as a joke with the nodes! I hope this doesn't vanish to nothing once the current event quest ends!

Keep it on, let it rotate every 2 days for rewards... a Gold Dungeon, Crystal Shard Dungeon, BC Dungeon, Energy Refill Dungeon, Catalyst Dungeon and so on... it would be awesome! It wouldn't NEED to be played, but if your low on gold you could jump in with a mate and earn a quick 200k or so-on.

Also are there any other modes being done? Maybe for 5 players? 10 players? Or is this it?


I think I could go on, but I think some of the above really need to be addressed, but more importantly, we as a community need to be addressed and informed of where the game is going, are these going to be looked at? Is there something coming in the next 3 months that will address any of the above?

We never seem to hear from you, it all went well a few months back, about being transparent and open... yes this has nothing to do with transparency, but we are still here! Talk to us! Let us know what your planning on doing, not everything, not to spoil things, but to keep our interest.

Look at other games, they inform players of changes coming, they tease things and keep their communities upto date, not just every month before a new event quest!

Anyway, I really hope I get some sort of answer, which is good! I can hope...
This discussion has been closed.