Alliance War Season Rewards for Season 13 have now been distributed. Compensation for individual Wars will be sent later today (Nov 20). You can leave your alliance and still receive the individual Wars Compensation. We are also investigating an issue with Champions stuck in AQ. At the moment Days 1-4 of Honor Rewards have been paid out, Day 5 and full Rewards are still coming!
Top 400 AQ, gold 1 alliance pushing for plat 3 next season looking for reliable replacements.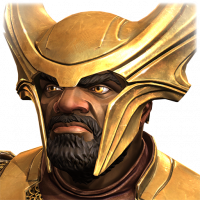 AjTodayB
Posts: 326
★
We do 5×5 and with the new AQ rewards coming up we will get a full t4cc weekly! We were plat 3 for a good amount of time last season but dropped out because of missing a War. Not for a lack of trying, we searched for over 2 hours. Our day 1 prestige is 6.4k+ looking for around the same. We don't push events like arena and duels because it's not worth the rewards. Do your best in Item use/completion and it's all good. My Line ID is my name contact me if interested!