Summoners, we recently encountered an issue with the Alliance Quest Setup Phase Starting Timer that may cause the Setup Phase Starting Timer to display erroneous information, though we are working on a fix for it as quickly as possible. Additionally, if the Setup Phase does not let you plan your days in advance, you will be able to once the Event officially begins on the Alliance Quest Start date.

For clarity, the next Alliance Quest Enlistment Phase will begin on December 5 at 20:00 UTC, regardless of what the in-game timers display.

The next Alliance Quest Start will be on December 6 at 20:00 UTC. This is when Summoners should be able to enter each Map.

Thank you for your patience and understanding as we work to resolve this issue.
Gwenpool goes to the movies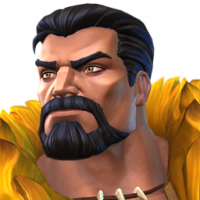 Absolute_1ce
Posts: 2
Anybody else feel very let down by the fact that if we have not been lucky enough on crystals that we can't get 100% completion? Just started week 3 and already ran into Loki who I don't have and it really bugs me. Feels like they are just out for more $$$. Should implement a new crystal for cash only that will chk your champs and give you one you're missing ... 2* or even 1* would be fine by me and would be willing to pay like $6.99 each personally just to ensure I could finish all the exploration.