**KNOWN ISSUE**
Some items are displaying erroneous star ratings. This seems to be happening most on items where typically there are no star ratings. We have found the cause for the issue and it will be resolved, targeting mid-late next week.
The math on featured five star crystals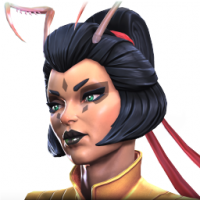 StarlordisWicked
Posts: 295
★
God Tier: Domino, CA IW, Corvus, AA, Ghost Rider, Hyperion, Magik,
Demi-god tier: Massacre, Wasp, IM IW, Hulk, Hela, Ultron
Mid-tier: Winter Soldier, SM MM, Loki, Psylocke
Garbage tier: Colossus, BP CW, Falcon, Juggernaut, Groot, Vulture, Iron Patriot

24 heroes total. 7/24 chance of god tier, 6/24 chance of Demi god. So better than a 50 percent chance of god or semi god tier champ

Is it worth the extra shards? Or just too risky?