Summoners, due to a technical issue, this week's series of Alliance Quests will be cancelled at 4pm PT. There will not be any Rewards for this series. The next series of Alliance Quests will start on April 18 at 12pm PT. We will be assessing the impact on Alliances and compensating accordingly, as well as returning Alliance Tickets.
Map 7 Global "Reprisal" Node Not Displaying Fury Charges Gained from Well Time Blocks/Parries
DTMelodicMetal
Posts: 2,799
★★★★★
Device and Version: iPhone XR
Device Operating System: iOS 12.1.4
Mobile Carrier: N/A
Cellular or WiFi: CenturyLink 500 MB/s WiFi
Game Version Installed: 21.3
Game Mode: Alliance Quest, Map 7
Champions Affected: Sentinel, Corvus Glaive
Active Boosts: No boosts, no synergies
Description of the Issue: Please include a full and complete description of the problem you are experiencing with as much relevant detail as possible. Include how often it happens (once, sometimes or always) and how long you've been experiencing the issue.
Screenshot or Video: Map 7's Global "Reprisal" node states that "Well Timed Block grants the Attack a Fury charge, increasing their Attack Rating by 6% per charge. Up to 10 charges can be gained and performing a Medium or Light Attack consumes one charge." The screenshots and in-game video footage shown below show that Reprisal's fury charges are not visible after executing well timed blocks or parries. Map 7's Global "Counterstrike" node had the same bug during the 1st week of Map 7.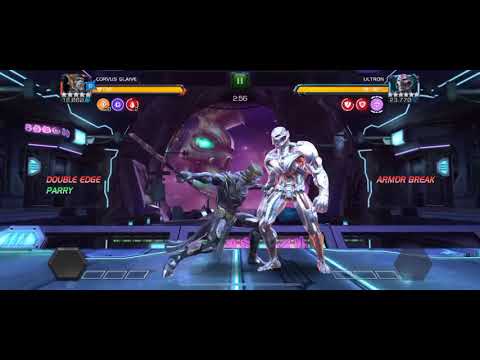 @Kabam Vydious
@Kabam DK
It may be worth double checking the remaining 2 Map 7 global nodes' code (Juke, Foresight) regarding fury mechanics being visible to players.