Summoners, due to a technical issue, this week's series of Alliance Quests will be cancelled at 4pm PT. There will not be any Rewards for this series. The next series of Alliance Quests will start on April 18 at 12pm PT. We will be assessing the impact on Alliances and compensating accordingly, as well as returning Alliance Tickets.
Best options for 6.1.6 Sentinel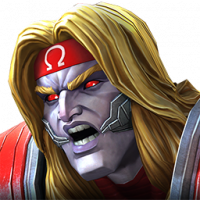 Evangelionlovr
Posts: 451
★★★
So I'm working on exploring act 6.1 and all I have left are the last two quests. Crossbones isn't even a slight issue anymore now that I have ghost and Omega at R5, however I still can't get Sentinel down in less than 2 team revives. Does anyone have a great counter that they've found to this fight? I mainly just use corvus domino rhulk and whatever other champs I have for the paths and throw them at him.

This discussion has been closed.