**UPDATES TO ENLISTMENT GIFTING EVENT:**
To prevent exploitation, we will prevent new Accounts from being able to Gift enlistment crystals. We will also be taking action on those who are using 3rd Party Sellers, Bots and other farms to gift themselves mass amounts of Enlistment Crystals. Lastly, we will be adding an expiration timer to Enlistment Crystals. All unopened Enlistment Crystals will expire on Oct 18 @ 17:00 UTC. For more information, please see this post:
https://forums.playcontestofchampions.com/en/discussion/346104/updates-to-enlistment-gifting-event
**KNOWN ISSUE**
We have adjusted the node placement of the new AW maps to better allow path traversal. As a result, defender placements have been reset. Please, take a moment to re-place your defender setup. We will be pushing out a message in-game shortly.
Time to Take a Little Class Trip!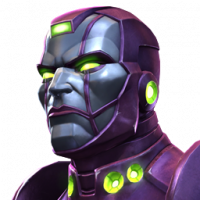 MCOC Team
Posts: 458
Administrator∙Moderator ›
Summoners!

It's time to take a little trip with your friendly neighbourhood Spider-Man! He's heading away with some of his classmates on a well deserved vacation. Unfortunately for Spider-Man, his chaperone has other things planned for him…

Nick Fury has requested that our Summoners join in on the new Event, Spider-Man: Class Trip!

This limited-time Quest will have four Chapters, with a new Chapter opening every Wednesday. To choose your difficulty you'll need to gather S.H.I.E.L.D. Markers throughout The Battlerealm and trade them in for Tiered Permission Slips.

The Quests!

Starting July 3, 10:00 AM PDT, SPIDER-MAN: CLASS TRIP will become available. This Quest has 4 Chapters, and will begin with the first Chapter unlocked. The next Chapter will be unlocked every Wednesday until the event ends on August 7 10:00 AM PDT. To enter each chapter, you'll need to spend a Permission Slip! These can be purchased in the Souvenir Store. Each Difficulty requires a different tier of Permission Slip.

Here's a breakdown of their costs:

Level 1 Permission Slip (Beginner Difficulty) - 150 S.H.I.E.L.D. Markers
Level 2 Permission Slip (Normal Difficulty) - 250 S.H.I.E.L.D. Markers (Available for Contenders and beyond)
Level 3 Permission Slip (Heroic Difficulty) - 500 S.H.I.E.L.D. Markers (Available for Proven and beyond)
Level 4 Permission Slip (Master Difficulty) - 750 S.H.I.E.L.D. Markers (Available for Conqueror and beyond)
Level 5 Permission Slip (Epic Difficulty) - 1000 S.H.I.E.L.D. Markers (Available for Uncollected and beyond)

Each Quest has 3 paths. On some Difficulties there will be Paths with a Champion Gate, These Gates can only be unlocked if you have that specific Champions on your team. That Champion can be of any Rarity and must be on your team in the Quest in order to unlock the Gate. You'll need a variety of Champions from the Spider-Verse to explore the entirety of these Quests.




Don't have one of these Champions? Don't worry! On the Final week of the Event, we'll be launching new Special Objectives that reward you with a 2-Star Version of the Champion for defeating them 50 times in Arenas, Quests, or Duels!

You'll also earn Homesick Crystal Shards in Special Objectives that start on July 3rd. These Crystals guarantee at least a 2-Star with a rare chance at a 3 or 4-Star Agent Venom, Carnage, Doctor Octopus, Electro, Green Goblin, Iron Patriot, Rhino, Spider-Gwen, Spider-Man (Classic), Spider-Man (Miles Morales), Spider-Man (Stark Enhanced), Spider-Man (Symbiote), Symbiote Supreme, Venom, Venom the Duck, Venompool or Vulture. (4-Star Rhino not included).

Where do I get those S.H.I.E.L.D. Markers?

There are 3 places to collect S.H.I.E.L.D. Markers:

- You can find them by completing Special Objectives with Spider-Verse Heroes, Sinister Six, or Symbiote Champions.
- You can collect them from a special Login Calendar
- Completing Class Trip Quests.

Then you take those markers, and head over to the Souvenir Store to trade them in for Permission Slips, special Profile Pics (for 1000 Markers each), and more as the month goes on!

Take Home a Souvenir!

Have spare S.H.I.E.L.D. Markers? In the last week of the event, we'll be adding a selection of items for you to spend your spare Markers on! These items are not as good as the rewards that you can earn in the Class Trip quests, so if you can do the Quests, we suggest doing those first!




Speaking of the Quest Rewards… What are they?

For Completion and Exploration of these difficulties (including Chapter and Quest Rewards), you will receive:




Rewards may come in combinations of Shards/Fragments and Whole Crystals/Catalysts. Rewards and Event Details are subject to change before release.

Pack your bags, Summoners! The trip starts on July 3rd!
Post edited by Kabam Miike on