Summoners, due to a technical issue, this week's series of Alliance Quests will be cancelled at 4pm PT. There will not be any Rewards for this series. The next series of Alliance Quests will start on April 18 at 12pm PT. We will be assessing the impact on Alliances and compensating accordingly, as well as returning Alliance Tickets.
PROXIMA CANT PARRY DOMINO?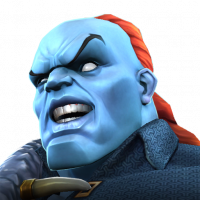 Suman_sahA
Posts: 417
★
Today i fought Domino on Aegis heavy node with my proxima. I thought domino will get parry stun & I will do the heavy, but Domino did not get parry e single time even I was trying to block/parry every time. Ultimately Proxima KO ed without getting a single scratch on her, but I finally managed to get a parrry from my hyperion & then killed her. So, How this could be? I know domino reduces AAR by 15% but Proxima also has 200% AAR when block an Attack. Till now I was able to parry IMIW, Yondu but this time it got me some real trouble by loosing a champ & another 50% of hype in first section in WAR.. Anyone can explain me this???