**KNOWN ISSUE**
Some items are displaying erroneous star ratings. This seems to be happening most on items where typically there are no star ratings. We have found the cause for the issue and it will be resolved, targeting mid-late next week.
5.4 mil alliance looking for 10 to form 3rd bg. Aq 5×5 expert tier. aw tier 4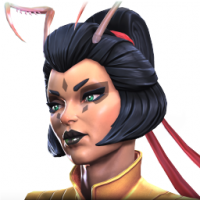 havoc78600
Posts: 23
Hi guys, we are looking for 10 people to run a bg independently. We had to let a few people go due to inactivity and lack of donations and hence are in the need of 10 people to run a 3rd bg independently. We were a 7.4 mil alliance earlier and have been consistently ranking in aq expert tier around the 1400 mark with 1 ggc and 2 gc every aq and a full t4b. We play all available wars and are in tier 5 never dropping below this level and are mostly in tier 4. We hit item use all milestones and do 650 on duels. No arena minimums or completion targets. Pls feel free to contact me in game
@havoc7860
. Our alliance tag is p1gnk if you want to look us up. Thanks for your time. Cheers!!!