Time To Retire Monthly Character Calendar Crystals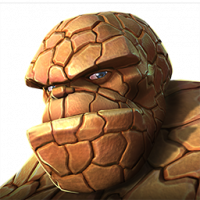 DOA40
Posts: 94
★
As the title says, I believe at the end of this month, it is time to retire the Character Crystal in the monthly calendar. Here are my reason why I think that this needs to occur:

1.) Drop Rate: Since these Crystals have been introduced, the drop rate of getting a 4* over a 3* is infinitesimal. Using myself as an example, since they have been introduced, I have gotten a 3* every time I have popped one. And yet, I have heard of people who have gotten a 4* from them every other month. I understand that the possibility of getting a 4* is up to random luck, but (using myself as an example again) since they have been introduced, I should have gotten at least one 4* from them at this point in time.

2.) Useless: I don't know about other players, but for those players who have a rather decent amount of 5*s or even 6*s, these Crystals are useless. For players like myself, that day on the monthly calendar could be used for something more useful. I would take a T4 shard Crystal over this useless thing.

3.) No Need: I, myself (and those players who have decent amounts of 5 & 6*s) have no need to be constantly getting 3*s from these Crystals (since the drop rate for 4*s is so incredibly low). I don't use 3*s for anything anymore and the only thing that these 3*s do is just sit in my Character inventory. I don't rank them up, I don't use them in Arenas, and I don't use them in quests. Now, I can understand for new players who have not gotten past Act 3 or don't even have their first 4*, these Crystals can help them out immensely. But for players, like myself, I have no need for them and I don't want to get them every month.

It is my belief that for the beginning of January, some new Crystal should be added to the monthly calendar that is based on what level you are. If you are a new player, you will still get that monthly Character Crystal in order to help you in your questing. But for those of us who are a Conqueror or even Uncollected, we should get something different for that day on the monthly calendar depending on our rank.

I have no need for this Crystal, I don't want this Crystal, and I'm honestly sick of getting them. Whether you agree with me or not, is up to you. I just feel like something needs to be done about this.