We are currently experiencing an issue causing a delay in delivery of Summoner Advancement, the Alliance Quest event, and other 3-Day X-Men use event. We are working to resolve this, but it will likely take a few days. We will ensure that these rewards are delivered to affected Alliances. Please do not change Alliances until your rewards are delivered.
AQ Prestige Bugged Compensation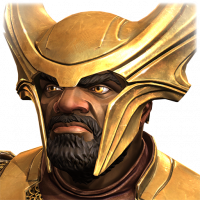 Tasty_Yum_Yums
Posts: 395
★★★
Many alliances attempted map7 to gauge the feasibility of running it in the future. Based on the new challenge, some alliances didn't make it 100% on one of the days. The prestige bug has now limited their ability to max out points. We understand this bug won't be fixed this round, but I think running another week of free donations is a fair compensation. It seems to make sense alliances get a free week of donations with AQ running bug free....

I would have added this to the forum post but it was announcement that was closed right after.