Here's a Brain teaser for you (Mods feel free to comment if you can confirm the answer)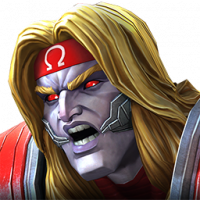 Evangelionlovr
Posts: 451
★★★
If you are using Ghost with the Wasp Synergy against a Spidergwen and you use a special attack immediately upon phasing and the enemy spidergwen isn't blocking, will she evade it or will you hit her?

Ghosts abilities state: "Critical hits CANNOT be evaded", in addition, Ghosts abilities state that if you use a special immediately after phasing that all the hits of that special will be critical hits, and the wasp synergy makes all Ghosts special attacks activated upon phasing to be unblockable.

Now Spidergwen's abilities state that she has a 500% chance to evade unblockable specials if she isn't blocking, so my question is which of these two abilities will win out?