Summoners, due to a technical issue, this week's series of Alliance Quests will be cancelled at 4pm PT. There will not be any Rewards for this series. The next series of Alliance Quests will start on April 18 at 12pm PT. We will be assessing the impact on Alliances and compensating accordingly, as well as returning Alliance Tickets.
Going for Elders Bane. I hate this guy...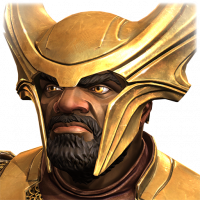 ẞlооd
Posts: 1,936
★★★★
Any suggestions for who I should take in? No 5* Medusa, no Loki, no Proxima. I've taken him down twice. Both times with Medusa and Sabretooth, but I've been having a bad go for about 5 runs where he evades and immediately comes back with an intercept. Only other thing I can think of is my Quake, but I'm not a good player with her.