Due to issue with the "Not Another Anime Reference" Solo Event, we will be disabling the event for the time being. We will return the event at a future date when the issues have been resolved. We apologize for the inconvenience.
**BANQUET EVENT PSA**
To fully participate in the upcoming Banquet's Alliance Event you will need to be in your alliance for 14 days prior to the event's start date on December 20th. That means, stay in your alliance from December 6th onwards to enjoy all there is to offer in the Banquet event.
This Just In: Spider-People Go Berserk in July!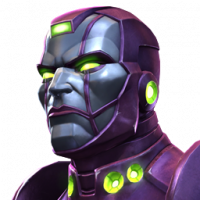 MCOC Team
Posts: 474
Administrator∙Moderator ›
Summoners!

You're reading it here first in this Bugle Exclusive! Spider-People rampaging through the Battlerealm! Attacking innocent people and causing chaos in our fair corner of the Multiverse! What is causing these so called "heroes" - these masked, menacing vigilantes to attack everyone? No one knows!

And who is on the case? Two MORE masked Vigilantes! That mouthy merc, Deadpool, and New York's most abhorrent criminal, Spider-Man. Does that sound like a good plan to you? Trusting the original Spider-Person to "find out the truth" and "save his fellow masked menaces"? Watch the destruction ensue in July's Event Quest, "PHANTASMAGORIA"!

But they can't do it alone!

Of course Deadpool and Spider-Man need some assistance in the "heroic quest", so they've brought along 2 new allies that also hide behind a mask… or a dome. What do they have to hide?

Spider-Man (Stealth Suit) is a new breed of Spider-Person! He slyly swings around his foes with a new suit full of high-tech gadgets! He's also a smart one, choosing his gadgets carefully to counter his next foe!

Mysterio is a mystery, wrapped in a riddle, wrapped in an enigma, hiding behind a fish bowl! He summons clones, vanishes, and fires mystical beams at whatever foe stands in his way!

Class Trip:

Well, it must be a slow news day… We've just gotten word that another Spider-Man is going abroad with a group of school kids, but Nick Fury has other plans for him besides sightseeing...

Earn S.H.I.E.L.D. Markers by completing our new Special Objectives and from the S.H.I.E.L.D. Marker 7-day Login Calendar. Use them in the Souvenir Shop to purchase Permission Slips to gain entry in the new Spider-Man: Class Trip Quest!

You'll be putting the full force of the Spider-Verse to test in these Quests. This is in a similar format to the "Gwenpool goes to the Movies" event, with different rewards!

The 98 Day Summoner Appreciation Calendar Kicks Off!

On July 1st (00:00 UTC), the first ever Multi-Month Login Calendar is coming to The Contest! This special Calendar contains rewards like Tier 4 Basic and Class Catalysts, Tier 2 Alpha Catalysts, 11,000 5-Star Crystal Shards, and a 5-Star Awakening Gem Crystal!

Make sure that you check in to The Contest every day to claim all of these valuable resources. If you can't log in everyday, don't worry! The rarest rewards have been spread throughout the Calendar, and also includes 7 grace days! This means that you'll have 105 Days to collect on the 98 Day Calendar.

But that's not all… Stay tuned for more information on more Summoner Appreciation events planned throughout the Summer!

Post edited by Kabam Miike on