**KNOWN ISSUE**
Currently, Alliance Prestige (as it concerns Alliance Quests) is not taking Relic Prestige into account. If possible, we are working to address this for the next round of Alliance Quests but will have more information for you when it is available.
Time After Time Event Quest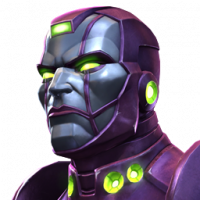 MCOC Team
Posts: 379
Administrator∙Moderator ›
Summoners!

Kang the Conqueror has been travelling across Eras, attempting to disrupt key events! Join Cable and Bishop as they travel to different Eras of Marvel history to preserve their important events, and stop Kang from upsetting the temporal balance of the Battlerealm!

If You're Lost You Can Look and You Will Find Me...

This event runs for 4 weeks, with a new Chapter of the Quest unlocking every week (2 Chapters will be available Week 1). Each of the 5 Chapters will focus on a different era of Marvel Comics History: The Golden Age, The Silver Age, The Bronze Age, The Copper Age, and the Modern Age!

The Quests

Each Chapter consists of 5 Quests, each with 1 path that is gated behind a different Required Champion. The number of overall paths will increase with each Chapter, but there will only be 1 gated path per quest.




Don't have the required Champions? Don't worry! You can acquire them from featured Era Crystals or Grandmaster Featured Era Crystals, that start running the same week that the Chapters are unlocked, and run until the end of the entire event.

No luck with those crystals? Don't worry! You'll have plenty of chances to earn Unified Crystals that contain the required champions over the month!

Unified Crystals

Unified Crystals come in 2 varieties: Unified Crystals and Grandmaster Unified Crystals. These crystals only contain the Champions needed to pass the Champion Requirement Gates. The Unified Crystal will be available for 2000x Unified Crystal Shards, or you can spend 4000x Unified Crystal Shards for a Grandmaster Unified Crystal, if you are Uncollected or Cavalier.

From September 25th to October 2nd, a 2-Star Basic Unified Hero Crystal containing the required Champions will replace Versus Crystals in Quickmatch.

NOTE: These 2-Star Unified Basic Hero Crystals found in Quickmatch will only contain "Basic" versions of these Champions, which means that duplicating Champions will not award any Crystal Shards, but only the 1 Signature Level increase that 2-Star Champions gain from Duplication.

Where do I get Unified Crystal Shards?

In addition to getting Unified Crystal Shards from the Time After Time event, you can find Unified Crystal Shards in Milestone and Rank rewards for 2 new, limited-time only, 24 hour Solo Events!

Time Paradox Solo Event
Tear the fabric of time and space to fight yourself! Earn points by using any Champion to fight against the same Champion. Earn Bonus points for using a specific Champion from that Era of the week.

This event will run on Wednesdays, Thursdays, Fridays, Mondays, and Tuesdays starting at 10am PT.

Gold Spend Solo Event
This one is simple! Spend Gold to earn points! This event will be run on Saturdays and Sundays, starting at 10am PT.

The Rewards

This Event, and all of the events surrounding it, are all about celebrating 80 Years of Marvel characters, and we're doing that by loading the rewards up with Champion Crystals!

First, let's take a look at the rewards you can receive if you fully explore all 4 Difficulties:



Now, for each Difficulty:



This event kicks off on September 4th, and will last until October 2nd! You must update to the latest version of the game to take part!

Note: Unified Crystals will continue to be available for 1 week after the end of the event, so you can spend any unused Shards on them after the event closes, but will not be able to earn any more.

Go forth, Summoners, and stop Kang the Conqueror!

Post edited by Kabam Miike on