**UPDATES TO ENLISTMENT GIFTING EVENT:**
To prevent exploitation, we will prevent new Accounts from being able to Gift enlistment crystals. We will also be taking action on those who are using 3rd Party Sellers, Bots and other farms to gift themselves mass amounts of Enlistment Crystals. Lastly, we will be adding an expiration timer to Enlistment Crystals. All unopened Enlistment Crystals will expire on Oct 18 @ 17:00 UTC. For more information, please see this post:
https://forums.playcontestofchampions.com/en/discussion/346104/updates-to-enlistment-gifting-event
Community Champions Competition - Week 9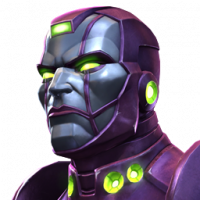 MCOC Team
Posts: 460
Administrator∙Moderator ›
Summoners!

We're on the final week of the Summoner Showdown! 24 Talented Summoners have already competed, and now it's time for the final 3 to compete for their chance to take a spot at the Summoner Showdown finale at New York Comic Con! Catch this week's Showdown live at Marvel.com on Wednesday at 12pm PDT/3pm EDT! Tune in to watch Atromix, CraftyGrinding and Lagacy go head to head for their chance to compete on stage at New York Comic Con!

Here are your Contenders!

CraftyGrinding: This life long game like to play the game slowly and methodically. Will that gaming experience help him when it comes to taking down this challenge? We'll find out!

Atromix: This seasoned Summoner was one of the first 200 to take down the Labyrinth of Legends! His playstyle is all about the perfect intercept!

Lagacy: The winner of the 2017 New York Comic Con MCoC Championship! Lagacy is out to take back the crown! Lagacy has a history of taking down the competition, and end-game content, with super-human speed!

Our 3 Contenders have chosen their favourite 6-Star Champions, and we want you to duel them for a chance to win this week's 5-Star Hero Crystal!

Find these 3 Accounts in-game, duel them, and submit a screenshot that clearly shows your in-game screen name and the account you are dueling, to be entered into the random draw for your chance to win:

MCoC CraftyGrinding (Champion: Spider-Man (Stealth Suit))
MCoC Atromix (Champion: Namor)
MCoC Lagacy (Champion: Human Torch)

After you've Dueled, head over to our contest page to submit your screenshots. You don't have to win the Duel to Enter! You only have to participate.





ENTER USING OUR CONTEST PAGE HERE

But that's not all! After your duel, let us know which of these 3 you think will be our first Summoner Showdown winner!

If the majority of Summoners get it right, everybody that dueled any of these 3 Champions will win 3 Energy Refills! If the community chooses the 2nd place winner, you'll all win 2, and if the community chooses the 3rd place winner, you'll all win 1!

Don't forget to tune in to Marvel.com on Wednesday September 25th at 12pm PT/3pm ET to see this all go down live!

Energy Refills and the 5-Star Hero Crystal will be delivered via in-game message on Friday, September 27th.

Please Note that this Summoner Showdown starts 1 hour earlier than usual! Don't miss it! Log on at 12pm PDT/3pm EDT!

NO PURCHASE NECESSARY.

Must be above age of majority with a MARVEL Contest of Champions game ("Game") installed on your device as of the start of Giveaway Period.

VOID IN BELGIUM, BRAZIL, COLOMBIA, HONG KONG, ITALY, KENYA, MALAYSIA, NIGERIA, POLAND, QUEBEC, RUSSIA, SAUDI ARABIA, SWEDEN, TURKEY, THE UNITED ARAB EMIRATES, AND WHERE PROHIBITED OR RESTRICTED BY LAW.

For instructions on how to Duel, read these instructions here.

For instructions on how to take a screenshot, read these instructions here.



This discussion has been closed.