We are currently experiencing an issue causing a delay in delivery of Summoner Advancement, the Alliance Quest event, and other 3-Day X-Men use event. We are working to resolve this, but it will likely take a few days. We will ensure that these rewards are delivered to affected Alliances. Please do not change Alliances until your rewards are delivered.
Just a quick question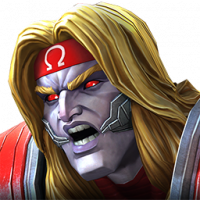 Hiug456
Posts: 90
★
Is ghost rank 5 unduped without her synergies and without suicides worth rank 5? I finished 6.3 with only one rank 5, domino, and really want to have more than one when 6.4 come out. Ghost is the only viable one of my 5* who I want to rank 5 in my current position. So like I said is she worth it without synergies, suicides and her dupe.