**UPDATES TO ENLISTMENT GIFTING EVENT:**
To prevent exploitation, we will prevent new Accounts from being able to Gift enlistment crystals. We will also be taking action on those who are using 3rd Party Sellers, Bots and other farms to gift themselves mass amounts of Enlistment Crystals. Lastly, we will be adding an expiration timer to Enlistment Crystals. All unopened Enlistment Crystals will expire on Oct 18 @ 17:00 UTC. For more information, please see this post:
https://forums.playcontestofchampions.com/en/discussion/346104/updates-to-enlistment-gifting-event
Back Issues #4: Waning Moon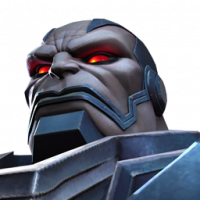 Kabam Miike
Posts: 7,948
Administrator∙Moderator ›
Once upon a time, a rogue hero took matters into his own hands, seeking to dispel evil by any means. The Collector sought to return him to The Contest... via some unlikely allies.



Introducing Back Issues #4: Waning Moon



Available 10am PT, Wednesday December 11th!

As the Contest has grown and evolved we've introduced many Event Quests, each with their own unique stories, and many that have expanded on the mythos of The Battlerealm and The Contest of Champions. We want to give Veteran Summoners a way to relive those moments, and newer ones that weren't with us at the time a chance to experience the stories of the Contest that they had missed out on!

This Event Quest is available in TWO difficulties:

CLASSIC difficulty is a recreation of the original quest. While not completely 1:1, the layouts, difficulty, and dialogue are all the same as you remember. Take a stroll down memory lane and see how far you've come, or experience a quest you never got the chance to play!

VARIANT difficulty is a new spin on the quest, available for Summoners level 45 and up. This version features extreme challenge, new opponents, some minor map layout updates, and Champion Requirements that will ask you to reach deep into your roster and pick up some old favorites. This quest will test even the mightiest of Summoners, so be prepared!

The Variant Challenges!

With each Back Issue Variant Difficulty, we aim to shake up the Summoners Roster, either through implicit, or explicit Champion Requirements. This time, we're making Summoners dig deep into their Rosters, and reviving some of your old favourites through the use of Rarity Restrictions!

Each Quest will require you to bring only certain Rarity Champions. Remember, this is permanent Content, so if you've lost your lower Rarity Champions over time, you'll have time to rebuild that Roster. To assist in this, Summoners over level 45 will regain access to the "Hero Crystal" in the Misc. tab of the store, which contains 1 and 2-Star Champions.

Quest 1: 5 and 6-Star Champions Only
Quest 2: 5-Star Champions Only
Quest 3: 4-Star Champions Only
Quest 4: 3-Star Champions Only
Quest 5: 2-Star Champions Only
Quest 6: 1-Star Champions Only

New Buffs
In addition to some challenging Buffs that you've probably already seen around the Contest, this Variant Difficulty will introduce 4 new Buffs:

Crackling Energy:
Striking the Defender with a Contact attack puts a Passive Energy Damage over time effect on the Attacker dealing 0.5% of their max health every second for 10 seconds, stacking up to 10 times. Striking the Defender with a Non-Contact attack Removes all stacks.

Fundamentals:
The Defender has a -100% chance to use Special Attacks, instead they gain a bonus based on their Current Power:
Less than 1 Bar: Reduce all incoming Damage by 95%

1 Bar: Gain +2100 Block Penetration

2 Bars: All Attacks are Unblockable

3 Bars: All Attacks are Unblockable and Charging a Heavy Attack deals 50% of the Defender's Attack as Direct Physical Damage.


Will of Konshu:
All of Moon Knight's passive abilities are activated, regardless of the current lunar phase.

Echo Barrier:
Defender gains an energy barrier with 15 charges. Striking the Defender, applying a Bleed effect, or applying an Armour Break effect removes a charge. The Defender is immune to all damage while the barrier has charges remaining. Charges are restored to 15 every 20 seconds.

Rewards:

Like Back Issue #3, this Quest features 6 Individual Quests over 3 Chapters, unlike Back Issues #1 and #2, which featured 9. Quest Rewards reflect this.

For completing and exploring all of the Classic quests, you earn:
Tier 2 Generic ISO x3
Tier 3 Generic ISO x16
Tier 4 Generic ISO x9
Gold x9575
Units x150
Premium Hero Crystal Shards x8000
3-Star Hero Crystal Shards x2000
Stony Core x1

For completing and exploring all of the Variant quests, you earn:
5-Star Rank 2 → 3 Gem Crystal x3
5-Star Rank 3 → 4 Gem Crystal (2015/2016 Champs Only) x3
5-Star Rank 3 → 4 Gem Crystal x1
5-Star Rank 4 → 5 Gem Crystal x1
5-Star Awakening Gem Crystal x1
5-Star Crystal x2
Tier 5 Basic Catalyst Fragments x27000
6-Star Crystal Shards x2250
5-Star Signature Stone Crystal x42
Gold x2,100,000
Units x270

EDIT: Clarified the Collector Crystal is only available to Summoners: Level 45+

EDIT: There is a typo on the Fundamentals node that is displaying the wrong damage value for when the defender charges a Heavy Attack at 3 bars of Power. The actual damage value is 50% of the Defender's Attack. We have corrected that in this announcement and are working on getting this visual error corrected within the game as well.
Post edited by Kabam Zibiit on