Delve Underground to Steal Mole Man's Hidden Treasures! [Corrected]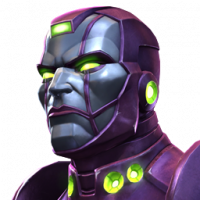 MCOC Team
Posts: 398
Administrator∙Moderator ›
Good Mole Man to you, Summoners!
Mole Man has been sneakily building a series of subterranean tunnels and lairs, just below your feet and filling it with treasures!
Do you dare to go spelunking into the unknown and traverse Mole Man's expansive tunnels to take the treasures for yourself?
Introducing: Mole Man Expeditions!

Mole Man's lair is vast, and he's left Items, Crystal Shards and Catalyst Fragments strewed along the many paths of his domain.
This unique Side Quest will feature 4 Difficulties (Medium, Heroic, Master, and Epic), each consisting of 4 Maps, one unlocking each week. The Maps will feature multiple branching paths, where Summoners must choose between at least 2 Opponents of varying difficulty as they travel to the Final Boss.
Caves are small spaces, so you'll only be able to bring in 3 Champions on your Team.
Be careful Summoner! You don't want to get caught by Mole Man while you're trying to steal his treasures!
Get ready to lead your Expedition into the Unknown!
All along the branching paths of these Quests, you'll find Catalyst Fragments and Crystal Shards.
This Quest costs 0 energy, and the rewards are split along the paths of the Maps. There are some rewards for Quest, Chapter and Act Completion and Exploration, but they do not compare to the rewards that you can find along the many different paths.
Speaking of many paths…

Each path consists of 3 fights and the Boss Fight. There are multiple rewards along those paths.
Quest 1: 8 Paths
Quest 2: 12 Paths
Quests 3 and 4: 16 Paths
But what are the Rewards?
Mole Man's treasures can be found along the many branching paths of the Quests. Unlike a traditional Quest, where the best rewards are found in Completion and Exploration, you'll find the best rewards on the Quest Map itself!
This way, even if you do not have the time to complete the entire Quest, you can target the rewards that you need the most. The following chart shows the total possible rewards you can find on the map across all 4 Quests. Remember, 1 Quest unlocks each week!
There are also extra rewards in the Act Completion and Exploration rewards.
The Quest Completion and Exploration rewards are the same for every Quest of each difficulty. So you can get the following rewards for each Difficulty 4 times over the course of the month.
Time to go down under!
Quest 1 of Mole Man Expeditions will unlock on March 4th, with a new quest releasing every week! Don't get lost in the caverns below!
Post edited by Kabam Miike on