**UPDATE**
We are currently working to fix a known issue regarding Alliance Prestige. With the introduction of Relics, Summoner Prestige is now the average PI of your Top 5 Champions and the average PI of your Top 5 Relics (regardless of which Champion they are attached to) combined.

Today we pushed a fix that will allow for proper reward calculations in Alliance Quests. However, the display for Alliance Prestige will not be accurate and does not include Relic Prestige. This is a display issue only.

Choose your Side in the Baron's War! [Rewards Corrected]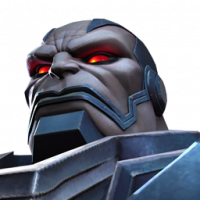 Kabam Miike
Posts: 7,594
Administrator∙Moderator ›
Pledge Your Allegiance
Summoners,
Two mysterious strangers, each serving a different goal, have arrived in the Battlerealm! It's up to you to choose who you will side with. The Champions of The Contest have already begun to find their choices.
Champions loyal to Iron Man, Hulk, and Civil Warrior are fighting alongside the Sorcerer Supreme. Meanwhile, many who follow Thor, Black Panther, and Spider-Gwen find their allegiance in line with Storm (Pyramid X).
This event starts on April 1st at 10 am PST and lasts until April 29th at 10 am PST.
Fight for Your Side!
When this event starts, you will be asked to make your choice. Join Sorcerer Supreme and the Followers of the Ancient One, or join Storm (Pyramid X) and the Worshipers of Apocalypse!
You'll then gain access to a set of quests and Solo Objectives chosen for your team. This month-long event consists of four quests, with one quest released each week. Depending on which side you choose, your quests and rewards will differ. Siding with Sorcerer Supreme will reward you with Rank-Up Materials while joining Storm (Pyramid X) will reward you with Crystal Shards.
Know your enemy, Summoner. Your rewards will depend on your skill in battle!
Double Cross
On April 15th, the first 2 quests for each side will permanently lock. This is your chance to turn your back on your team and pledge allegiance to the opposing team to gather the resources promised by the other team. Of course, you can choose to remain loyal and earn even more of the resources you've already earned if you wish!
There is no bonus for remaining loyal to the same side.
Faction Specific Solo Objectives
Prove your might to your new Brothers and Sisters in Arms by completing Solo Objectives for your Faction! If you choose to change Factions on April 15th, your Objectives will change as well.

Rewards
The following rewards can be earned for completing the
Faction Quests and Solo Objectives
for weeks 1 & 2, and weeks 3 & 4. That means you can earn both sets of rewards if you choose to switch allegiance on April 15th, or can earn double a single set if you stay loyal throughout!
Los Mercs 4 Gold
There are rumors that deep within this world there is one known for his strength, power, beauty... Find and release him later this month and he may reward you!
Post edited by Kabam Miike on