**Known AQ Bug**
We are aware that some alliances encountered a bug during this last AQ that would not allow them to start maps on certain days. We know this has impacted your rewards.
We have been looking into the cause of the problem and once we have resolved it we will explore how to make things right for the impacted alliances. We will provide any additional communication in
Summoners! The Tiered Unit Offers available during the Summoner Celebration sale are only available until July 4th at 10 AM PT, unlike the Unit Store offers, which are available until July 5th at 10 AM PT. We apologize for any inconvenience or confusion this may cause.
Max sig Guillotine 2099 sig ability not activating
Worknprogress
Posts: 6,886
★★★★★
Fought an IMIW on node 22 in AW with the flow global active. Either had something happen with an input on my iPad or I did something and accidentally threw a light instead of dashing in and ate the 2nd hit of his heavy. My combo shield didn't activate until the 3rd hit of his heavy though which caused me to lose combo and then time out.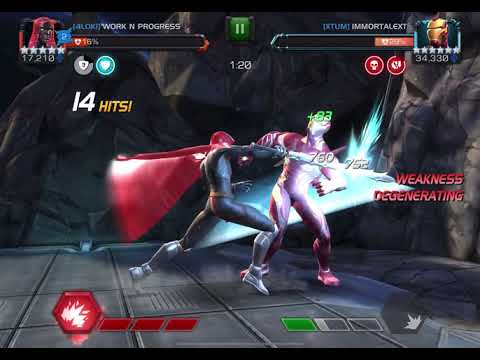 I haven't been able to figure out any reason from the node or imiw abilities it wouldn't have triggered. I wasnt stunned or low on health so no pacify or assassin interaction.