Summoners, due to a technical issue, this week's series of Alliance Quests will be cancelled at 4pm PT. There will not be any Rewards for this series. The next series of Alliance Quests will start on April 18 at 12pm PT. We will be assessing the impact on Alliances and compensating accordingly, as well as returning Alliance Tickets.
Bug Fix Incoming: Tier 5 Basic Catalysts in Cavalier Hotel MODOK Store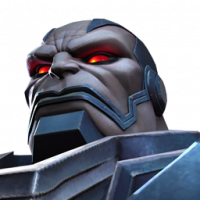 Kabam Miike
Posts: 6,592
Administrator ›
Summoners,

There is currently an issue where any Cavalier Player that had already purchased the 2x Tier 5 Basic Fragment items in the Hotel MODOK store when the limited was changed to 5 still shows that they had purchased 5.

This fix will affect all Cavalier Players.

- Purchase Limit of the original Item is set back to 2
- A second T5B Fragment item will be added with a Purchase Limit of 3.

This will be live in-game soon.
This discussion has been closed.