Summoners, due to a technical issue, this week's series of Alliance Quests will be cancelled at 4pm PT. There will not be any Rewards for this series. The next series of Alliance Quests will start on April 18 at 12pm PT. We will be assessing the impact on Alliances and compensating accordingly, as well as returning Alliance Tickets.
I need affirmation that I made the right choice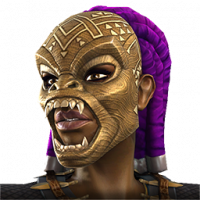 Clydania
Posts: 441
★★
So I have a 5* domino that I love a lotttt. I've had a 4* red hulk but never a massacre so I've always wanted a massacre to complete the trinity

So believe me I was very happy to see my 5* nexus crystal pop up with 5* massacre. It seemed like am easy choice until I realised the other options were awakening 5* cap america classic and a new champ of..... 5* Doctor Doom

Now I know I've always wanted massacre and I already have a good 5* mystic in symbiote supreme but the stuff I've seen and heard about doom is insane so I had to go for him.

Did I make the right choice?