Summoner Showdown, Show Up Difficulty. Sub 150 hit Solo w/ Colossus & Guide on how to do it!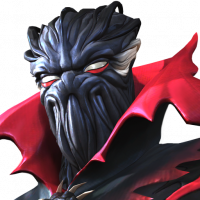 DarkEternity
Posts: 370
★★★
https://youtube.com/watch?v=ogKeUr4-qZM&t=68s
Hello everyone! I wanted to share with you this solo I got with Colossus against silver surfer.When playing against Surfer with Colossus there are 3 very important things to pay attention to.1. Distance
The distance between you, Surfer, and both sides of the arena is very important. Surfer's AI is very aggressive and his attacks create a lot of distance. This, combined with his sp2, makes it really easy to get comboed up against the wall. If you don't watch your distance you could easily find yourself getting destroyed by Surfer.
2. Power
You need to watch both your and Surfer's power. Surfer as well as yourself can easily get pushed to a Sp3 or even, for surfer, an sp2 in a spot you are not prepared to deal with. Another part of this is being careful that he doesn't get power gain buffs, and if he does, play very very cautiously. It is much better to bait out Sp2s rather than Sp1s due to the fact Sp2s can't activate any of these buffs, so he won't ever gain power gain.
3. Attack & Dashback Baiting
Knowing how to bait attacks, specials, and dash backs effectively is key. If you notice in the video I sometimes make small adjustments, dexes, etc. in order to bait out certain attacks or movements. It's all about learning the AI and how Surfer's AI moves. If you want to bait out a dash it's important to block before dexing or even doing a single light/medium attack to push them back. This will bait them into dashing back instead of continuing to attack you. Dexing his hits and playing passively usually gets him to throw his specials as well (as with most champions).
I hope you all find success in doing this Surfer!