**UPDATE**
We are currently working to fix a known issue regarding Alliance Prestige. With the introduction of Relics, Summoner Prestige is now the average PI of your Top 5 Champions and the average PI of your Top 5 Relics (regardless of which Champion they are attached to) combined.

Today we pushed a fix that will allow for proper reward calculations in Alliance Quests. However, the display for Alliance Prestige will not be accurate and does not include Relic Prestige. This is a display issue only.

Beyond Cavalier, there is the Thronebreaker! [Delayed]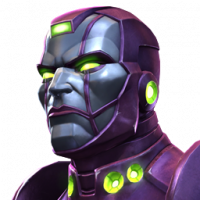 MCOC Team
Posts: 382
Administrator∙Moderator ›
Summoners!

The time is near for those who have proven yourself to become more than what you are. It is time to introduce the next level of Progression, beyond the likes of Cavalier! It is time to become the Thronebreaker!

The next level of Campaign progression is coming soon, and just like progression levels before it, achieving this new level will give you some sweet, unique benefits!

Achieving the Title
With the changes made to the direction we're going with Act 6, and into Book 2, we've decided to change our philosophy on how we award Campaign Progression titles, so listen up!

To become Thronebreaker, you must have beaten Act 6 Chapter 4, and possess at least 1x Rank 3 6-Star Champion.

Note: We are updating the existing "Throne Breaker" title obtained for mastering Act 6 to "Breaker of Thrones". The new Thronebreaker Progression point will include a title, which will be granted when the above conditions are met.
The Benefits
Like the jump to Cavalier, this new title will come with some great benefits. Similar to when Uncollected launched in 2017, these benefits will slowly release over time.

The following will be available when Thronebreaker launches:

New Daily Crystal

New 4 Hour Crystal

Discounted Cavalier Crystals

New Cavalier Shard Calendar replaces your GMC Shard Calendar

The Following will be released over time, and will not be available on the day that Thronebreaker launches:
New Gold Crystal

New Arena Crystal

Additional items in the Black ISO Market

New Monthly Calendar

New Daily Objectives

Exclusive offers, gifts, and rewards

Why Now?
There is a wide range of Summoners that have achieved the Cavalier title.

A fresh Cavalier Player that has just beaten Act 6 Chapter 1 once is worlds apart from a Summoner that has conquered all of Act 6, explored the Abyss, and takes on the Grandmaster just for fun.

Campaign progression titles help segment players so that we can appropriately target content and rewards to different levels of progression and roster maturity. With the switch to both a test of skill/progression and roster maturity, we'll be able to do that for the top-tier players.
Timing and Details
Summoners can claim the Thronebreaker Title on October 1st! If you have already beaten Act 6 Chapter 4, and have a roster that includes 1x Rank 3 6-Star Champion, you will receive the title retroactively on your next login.

We look forward to seeing you Thronebreakers in the future!
Post edited by Kabam Boo on