Grandmaster fight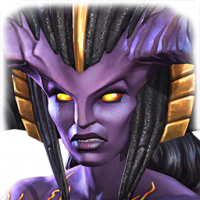 Aziz5253
Posts: 494
★★★
Is it just me or is this fight absolutely crazy rn? I saw a couple of videos on this fight and it goes so smoothly but when I fight him, he just doesn't use his sp1 and also the lags during this fight are crazy. I've already spent nearly 1k units on this fight but I only managed to bait GMs sp1 2 times out of the 50 times I've fought him.

Out of those 1k units, 200 were spent in the 1st phase learning his moves, and the rest of the units + a bunch of team revives from my absolutely fantastic alliance mates during his 3rd phase. I've managed to put him down to 11% somehow, but I'm out of units now, and I'm embarrassed to tell my alliance mates that I couldn't bring the GM down even after the bunch of team revives they've sent me.

How do I approach him now?