Weird Nick Fury bugs on Cavalier Event Quest - Skill paths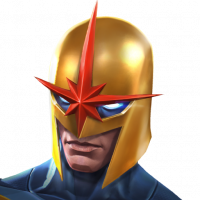 altavista
Posts: 266
★★
I have been taking my Nick Fury into the Skill quest for Cavalier Event Quest (with the evade nodes, disorient/shock debuffs preventing evades, etc). I am on latest version, on my iPhone.

I have finished exploring the entire chapter. One weird bug I have noticed is that when fighting with Nick Fury (alive, with the '1' next to his name' in LMD mode), some fights will be normal, and some fights will be bugged.

The bugged fights have had varying effects:
One of them is that my LMD Nick Fury will sometimes start the fight with 6 tactical charges (no fury buffs), that are on the normal decrease timer from 6 down to 0. Some of the time, this will correctly counter Evade (I will see the Evade failed text), and some of the times it doesn't counter Evade (the defender will evade).

Another bug is that even if LMD NF appears normal (no tactical charges at start), after throwing SP1 a few times and having more than 4 tactical charges, the Defender is still able to evade. I believe this has occurred when the Disorient debuff is on.

I haven't really tried NF on other content aside from the occasional Arena. I haven't noticed any bugs when using him in Arena.