UPDATE: A new Hotfix (v32.2.3) is now being released to address this issue. Please keep an eye on your App Store for this update to address the below issue.
We are currently experiencing an Error when Summoners view a Champion's Synergies while in the Champion Selection screen in Arenas and Duels. We are aware of this issue and are working on a Hotfix to address it. In the meantime, please avoid using the synergy menu to prevent this error and crash. We apologize for this inconvenience. Updates will be posted here:
https://forums.playcontestofchampions.com/en/discussion/293506/error-when-looking-at-synergies-from-champion-selection-screen
Lazy/Cheap buffing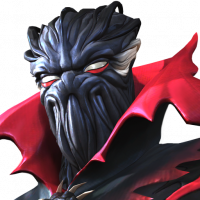 Luciferiamdevil
Posts: 72
★
Kabam buffed a lot of champions in a good way and gave them many utilities or else damage but there were some who didn't even count as a buff it was more like nothing changed in their kits, one big example is Nova buff where nothing has changed and still he has that annoying playstyle which is really not practical in using him anywhere in the game, he was a defender and remained as a defender after the buff then what was the point of buffing him
@Kabam Miike
.
Kabam even eliminated any hopes for him getting a good buff in the future by giving him just nothing and adding him to buffed character list, look at the next months buffs where a value only buff is too good(ebony maw).
I know some people will spam this thread by saying not every champ will become a solid champ but summoners think about it did nova got anything in his kit that he didnt had before plus they didn't even change his annoying playstyle so that he could be used differently,
@Kabam Miike
will nova be on your buff list again or is he just finalised as he is now thats the question.
Thanks all for your time reading this thread and its a request to not spam this thread with annoying comments.
Post edited by Kabam Zibiit on