Steel Yourself Summoner! The Trials of Madness Await you this May!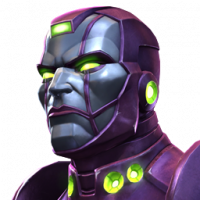 MCOC Team
Posts: 409
Administrator∙Moderator ›
Event TL;DR
Each day, you will be met with a trial, use sling ring charges collected through various means to unlock paths in the trials and collect power ups to use in the penultimate fight on the seventh day against Dormammu.
Quest
Starts:
05/04/2022
End:
06/08/2022
Trials Of Madness
Test your might in the Trials of Madness. Enter 1 of 6 trial quests daily to match skills against the greatest champions of the contest. But beware! The multiverse is in disarray and you never know which version of a champion you might meet. Every 7th day you will have the opportunity to face off against Dormammu but be sure to employ the boosts gained during the week to take on this formidable challenge.
Victory will yield a heavy purse of sacred remnants which you can use in the Mystic Archives shop that opened up with the commencement of the trials.
Format
6 trial quests available daily.

Trials 1-6 will be available all event with 4 difficulty settings

Use sling ring charges to unlock paths in the quests

Gain one sling ring charge per day, can choose one difficulty per entry.

Collect boosts during the week to aid your fight on the seventh day

Face off against Dormammu in the Trial of Madness on the seventh day.

The trial of madness is seven fights, one from each of the week's trials culminating in a fight against dormammu.

Earn Sacred Remnants to spend at the Mystic Archives shop.

Sling Ring Charges
What: Sling Ring
Where: First delivered via Mail Message, then One charge per day given out via log in calendar. One special sling ring charge given on every 7th day to enter the Trial of Madness.
Essence Boosts
Along your journey through the Trials, you will come across Essence Boosts to aid you against Dormammu. These boosts act like any other champion boost but are usable only in the Trials of Madness event and will be disappearing with the event so make sure to use them!
Essence Of Fire: This Essence increases Champion's Attack, Critical Resistance, Critical Rating, Block Penetration, Power Rate, and Ability Accuracy by 10%, up to a maximum of 60% whenever they fill a bar of Power.
Essence of Light: This Essence gives your Champions a Chance to Evade all incoming attacks and leave your Opponent Stunned.
Essence of Genesis: The attacks of your Champions restore Health equal to 15% of the damage they inflict. In addition, the effects of all enemy healing abilities are reversed.
Essence of Chaos: The Critical Hits of your Champions inflict Debuffs at random. Being struck by a Critical Hit grants Buffs at random.
Essence of Patience: Your Champions' Special Attacks increase in damage by 10% every 10 seconds.
Essence of Will: Your Champions gain 100% more Power from attacking or being attacked.
Rewards:
Mystic Archives Store
Solo Objectives
Start: May 4th, 2022 @ 10:00 AM PDT - End: June 8th, 2022 @ 10:00 AM PDT
Multi Madness Crystal Pool:
Black Widow
Black Widow (Claire Voyant)
Black Widow (Deadly Origin)
Iron Man
Iron Man (Infinity War)
Superior Iron Man
Captain America
Captain America (WWII)
Captain America (Infinity War)
Black Panther
Black Panther (Civil War)
Jabari Panther
Doctor Strange
Sorcerer Supreme
Symbiote Supreme
Thor
Thor (Jane Foster)
Thor (Ragnarok)
Hulk
Hulk (Immortal)
Hulk (Ragnarok)
Spider-Man (Classic)
Spider-Man (Stark Enhanced)
Spider-Man (Miles Morales)
Spider-Gwen
Spider-Ham
Spider-Man (Stealth Suit)
Spider-Man 2099
Peni Parker
Spider-Man (Symbiote)
Wolverine (6* not included)
Wolverine (X-23)
Old Man Logan
Post edited by Kabam Miike on