**BANQUET EVENT PSA**
To fully participate in the upcoming Banquet's Alliance Event you will need to be in your alliance for 14 days prior to the event's start date on December 20th. That means, stay in your alliance from December 6th onwards to enjoy all there is to offer in the Banquet event.
**Not Another Anime Reference Solo Event Returning**
This solo event has been fixed and will appear in game again on December 10th and will run through the 17th.
Reminder: This event is available to Paragon+ Summoners
INCOMING BUG FIX:

We'll fixing an issue with the Side Quests where all difficulties had the same Selector rewards.

We've fixed the Selectors in Threat Levels 4, 3, 2 and 1 to no longer contain rewards for Progression levels above the target audience.

Threat Level 4 rewards cap out at Thronebreaker
Threat Level 3 caps out at Cavalier
Threat Level 2 caps out at Uncollected
And Threat Level 1 has rewards for Proven
Alliance War Season 34: Loyalty Updates and 40% Revives!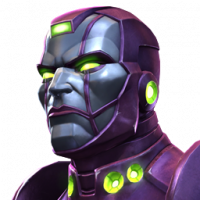 MCOC Team
Posts: 475
Administrator∙Moderator ›
Greetings Summoners!
With the start of Alliance War Season 34, we will be significantly increasing the amount of Loyalty that players can expect to receive from Alliance Wars. We have taken the numbers that we had previously revealed to players as a sample and have further increased the amount of Loyalty for Alliances in Tiers 1-4.
Here are the numbers that you can expect going forward:
Note: There are no changes to Exploration. Those figures are added for ease of reference. There has been no change to other sources of Loyalty, and you can still obtain it from War Victor and Challenger Crystals, Alliance Events, Solo Events, and by Helping your Alliance Mates.
With these changes, we want to make Potions more accessible than they were before Compensation started, but the number of potions given out for compensation was excessive, so we will be cutting back a bit from that number. We are aware that Health Pools have increased and are accounting for those in our new Potion economy numbers as well.
However, we wanted to swing a little further with our changes and took some inspiration from our Community…
40% Health Revives in the Loyalty Store!
We will be adding new Level 1 Alliance War Team Revives that heal your KO'd Champions for 40% of their Total HP to the Loyalty store! These new Percentage Based Alliance War revives will be available for just 1 Loyalty with no Purchase Limits!
This not only makes Revives more accessible, but also contributes 40% of a Champion's Max Health, reducing the amount of Potions needed to heal a Champion after a KO!
This is still a very experimental change and is subject to some changes in the future as we see how it goes. We may find the healing is too much or too little, or that different tiers should have different amounts healed, among other factors.
In the future, we also plan to exclude Revives from counting towards your Item Limit, but that will not be in place when this first launches.
Lastly, we want to give a huge thank you to DNA3000,
whose thread here on the Forums inspired this change!
Other Changes
Level 2 and 3 Alliance War Team Revives have been removed from the store.

Previously purchased Level 2 and 3 Alliance War Team Revives can now be sold for the base Loyalty cost. Alliance War Team revives bought in the last month for Units will be refunded via an in-game message at a later date.

Level 2 Alliance War Team Revive - 25,000 Loyalty

Level 3 Alliance War Team Revive - 45,000 Loyalty

Alliance War Boosts will be available to purchase for Units

Alliance War Champion Boost - 180 Units

Alliance War Attack Boosts - 60 Units

Alliance War Health Boosts - 60 Units

Combat Regeneration Boost - 125 Units

Power Start Boost - 250 Units

Invulnerability Boost - 375 Units

Updated Alliance War Bundles

725 Units - Intermediate Alliance War Bundle

3x Alliance War Attack Boosts

3x Alliance War Health Boosts

3x Alliance War Champion Boosts

3x Alliance War Level 4 Health Potions

5x Alliance War Level 3 Team Health Potions

1375 Units - Advanced Alliance War Bundle

3x Alliance War Greater Attack Boosts

3x Alliance War Greater Health Boosts

3x Alliance War Greater Champion Boosts

3x Alliance War Level 5 Health Potions

5x Alliance War Level 4 Team Health Potions
Insights
With the weekly compensation coming to a close, we think that free Revives will continue to help Players feel less of a burden from deaths and the cost of Consumables and reduce the Potion cost of recovering from a KO in Alliance Wars.
This is not the final change we will be making to Consumables. We're going to closely monitor how Potions and Revives are used in the coming seasons, and the relationship between their use and Alliance Wars, and look to make more changes in the future.
Season 34 of Alliance Wars starts on May 25th, 2022, and these changes will go into effect then!
Post edited by Kabam Miike on