Alliance War Season 34 - Season Changelog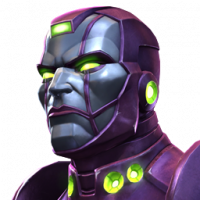 MCOC Team
Posts: 335
Administrator∙Moderator ›
Forward
Time for the start of a new War Season Summoners! This season we've got a brand new Attack Tactic, updates to Path Buffs, and rotating the Expert Map Defense tactic! Some large change to alliance War consumables, Loyalty, and how Tactics Rotate on the Expert Map. So let's get right into it!
Season 34, best of luck, and your attacks never miss-tic!
Timeline
Wednesday, May 11th
Wednesday, May 25th
Tactics Update
New Tactic Rotation for Expert Map
Going into Season 34, we will be "Pairing" Attack and Defense Tactics and changing when they rotate out. Tactics in the Expert Tier will no longer rotate a Tactic every season, instead we will be rotating out both the Attack and Defence Tactic every other 2 Seasons. This means the
Defiance
and
Miss-Tic Dispersion
will be the Attack and Defence Tactics for Season 34, and 35. Season 36 will then see a rotation of 2 new Tactics!
New Tactic
Attack Tactic:
Sick and Tired:
While the Defender has 3 or more Debuffs, the Defender is Passively Heal Blocked. While this Heal Block is active, Defender's Unblockable Ability Accuracy is reduced by 100%
Pool:
Blade, Medusa, Hyperion, Black Widow(Deadly Origin), Apocolypse, Cosmic Ghost Rider, Nebula, Captain Marvel, Havok, Symbiote Supreme, Angela, War Machine, Sunspot, Elsa Bloodstone, Hit-Monkey, Bishop, Anti-Venom, Knull, Masacre, Terrax, Hulkbuster, Ikaris, Luke Cage, Spider-Man 2099, Spider-Ham
Tactics By Map
New Tactics in
Bold
Expert Map:
Miss-tic Dispersion
replaces Unstoppable Armor as the Defense Tactic
Attack: Defiance

Defense: Miss-tic Dispersion

Challenger Map: Pick 1 of 3 (from Attack and Defense):
*new*
Sick and Tired
replaces Power Down
Attack: Defiance, Slow Your Roll, Sick and Tired

Defense: Miss-tic Dispersion, Unstoppable Armor - 2, High Ground - 2

Hard Map: Pick 1 of 3:
*new*
Sick and Tired
replaces Power Down
Attack: Defiance, Slow Your Roll, Sick and Tired

Node Changes
For Season 34, we wanted to update and bring change to nodes that we saw were underperforming, or underutilized. In an effort to boost the viability for the chosen nodes, we've buffed the nodes to make them more attractive for defensive placement and hopefully tease out new defenders into the Alliance War meta.
NODE CHANGES:
| | |
| --- | --- |
| Node 3 |   |
| OLD | NEW |
| EXPERT | EXPERT |
| Champion Boost 150% | Champion Boost 150% |
| Health Boost 100% | Health Boost 100% |
| Combat Deja Vu - Prowess | Combat Deja Vu - Prowess |
| Prowess Puncture - 3 | Spiked Armor |
|   |   |
|   |   |
|   |   |
| CHALLENGER | CHALLENGER |
| Champion Boost 100% | Champion Boost 100% |
| Health Boost 75% | Health Boost 75% |
| Combat Deja Vu - Prowess | Combat Deja Vu - Prowess |
| Prowess Puncture - 2 | Spiked Armor |
|   |   |
|   |   |
|   |   |
| HARD | HARD |
| Champion Boost 100% | Champion Boost 100% |
| Health Boost 75% | Health Boost 75% |
| Combat Deja Vu - Prowess | Combat Deja Vu - Prowess |
| Prowess Puncture - 1 | Prowess Puncture - 1 |
|   |   |
|   |   |
|   |   |
| INTERMEDIATE | INTERMEDIATE |
| Champion Boost 75% | Champion Boost 75% |
| Health Boost 25% | Health Boost 25% |
| Combat Deja Vu - Prowess | Combat Deja Vu - Prowess |
|   |   |
|   |   |
-
| | |
| --- | --- |
| Node 7 |   |
| OLD | NEW |
| EXPERT | EXPERT |
| Champion Boost 150% | Champion Boost 150% |
| Health Boost 100% | Health Boost 100% |
| Kinetic Transference - 3 | Conflictor - 2 |
| Power Bond | Power Efficiency |
|   |   |
|   |   |
|   |   |
| CHALLENGER | CHALLENGER |
| Champion Boost 100% | Champion Boost 100% |
| Health Boost 75% | Health Boost 75% |
| Kinetic Transference - 2 | Conflictor - 1 |
| Power Bond | Power Efficiency |
|   |   |
|   |   |
|   |   |
| HARD | HARD |
| Champion Boost 100% | Champion Boost 100% |
| Health Boost 75% | Health Boost 75% |
| Kinetic Transference - 1 | Conflictor - 1 |
| Power Bond | Supercharge |
|   |   |
|   |   |
|   |   |
| INTERMEDIATE | INTERMEDIATE |
| Champion Boost 75% | Champion Boost 75% |
| Health Boost 25% | Health Boost 25% |
| Power Bond | Conflictor - 1 |
|   |   |
|   |   |
| | |
| --- | --- |
| Node 12 |   |
| OLD | NEW |
| EXPERT | EXPERT |
| Champion Boost 150% | Champion Boost 150% |
| Health Boost 100% | Health Boost 100% |
| Aggression: Prowess | Aggression: Prowess |
| Power Focus 2 | Critical Setup |
|   |   |
|   |   |
|   |   |
| CHALLENGER | CHALLENGER |
| Champion Boost 100% | Champion Boost 150% |
| Health Boost 75% | Health Boost 75% |
| Aggression: Prowess | Aggression: Prowess |
| Power Focus 2 | Critical Setup |
|   |   |
|   |   |
|   |   |
| HARD | HARD |
| Champion Boost 100% | Champion Boost 150% |
| Health Boost 75% | Health Boost 75% |
| Aggression: Prowess | Aggression: Prowess |
| Special 2 Bias | Special 2 Bias |
|   |   |
|   |   |
|   |   |
| INTERMEDIATE | INTERMEDIATE |
| Champion Boost 75% | Champion Boost 100% |
| Health Boost 25% | Health Boost 50% |
| Aggression: Prowess | Aggression: Prowess |
|   |   |
|   |   |
| | |
| --- | --- |
| Node 18 |   |
| OLD | NEW |
| EXPERT | EXPERT |
| Champion Boost 150% | Champion Boost 150% |
| Health Boost 100% | Health Boost 100% |
| Hazard Shift - Incinerate and Poison | Hazard Shift - Incinerate and Poison |
| Feat of Indestructible 1 | Insult to Injury - 2 |
| Power Focus 1 | Feat of Indestructible 1 |
|   | Power Focus 1 |
|   |   |
| CHALLENGER | CHALLENGER |
| Champion Boost 100% | Champion Boost 150% |
| Health Boost 75% | Health Boost 75% |
| Hazard Shift - Incinerate and Poison | Hazard Shift - Incinerate and Poison |
| Feat of Indestructible 1 | Insult to Injury - 1 |
| Power Focus 1 | Feat of Indestructible 1 |
|   | Power Focus 1 |
|   |   |
| HARD | HARD |
| Champion Boost 100% | Champion Boost 150% |
| Health Boost 75% | Health Boost 75% |
| Biohazard | Biohazard |
| Feat of Indestructible 1 | Insult to Injury - 1 |
|   | Feat of Indestructible 1 |
|   |   |
|   |   |
| INTERMEDIATE | INTERMEDIATE |
| Champion Boost 75% | Champion Boost 100% |
| Health Boost 25% | Health Boost 50% |
| Biohazard | Biohazard |
|   | Feat of Indestructible 1 |
|   |   |
MINIBOSS NODE CHANGES:
| | |
| --- | --- |
| Node 19 |   |
| OLD | NEW |
| EXPERT | EXPERT |
| Champion Boost 150% | Champion Boost 150% |
| Health Boost 100% | Health Boost 100% |
| Ebb and Flow - Knockdown | Ebb and Flow - Knockdown |
| Power Focus 1 | Right Back At It - 3 |
| Bubble Shield - 3 | Aggression: Prowess |
|   |   |
|   |   |
| CHALLENGER | CHALLENGER |
| Champion Boost 100% | Champion Boost 100% |
| Health Boost 75% | Health Boost 75% |
| Ebb and Flow - Knockdown | Ebb and Flow - Knockdown |
| Power Focus 1 | Right Back At It - 2 |
| Bubble Shield - 2 | Aggression: Prowess |
|   |   |
|   |   |
| HARD | HARD |
| Champion Boost 100% | Champion Boost 100% |
| Health Boost 75% | Health Boost 75% |
| Ebb and Flow - Knockdown | Ebb and Flow - Knockdown |
| Power Focus 1 | Right Back At It - 1 |
| Bubble Shield - 1 | Aggression: Prowess |
|   |   |
|   |   |
| INTERMEDIATE | INTERMEDIATE |
| Champion Boost 75% | Champion Boost 75% |
| Health Boost 25% | Health Boost 25% |
| Ebb and Flow - Knockdown | Ebb and Flow - Knockdown |
| Bubble Shield - 1 | Aggression: Prowess |
|   |   |
| | |
| --- | --- |
| Node 21 |   |
| OLD | NEW |
| EXPERT | EXPERT |
| Champion Boost 150% | Champion Boost 150% |
| Health Boost 100% | Health Boost 100% |
| Hazard Shift - Incinerate and Poison | Hazard Shift - Incinerate and Poison |
| Blood in the Water - 3 | Schadenfreude - 3 |
| Power Bond | Power Efficiency |
|   |   |
|   |   |
| CHALLENGER | CHALLENGER |
| Champion Boost 100% | Champion Boost 100% |
| Health Boost 75% | Health Boost 75% |
| Hazard Shift - Incinerate and Poison | Hazard Shift - Incinerate and Poison |
| Blood in the Water - 2 | Schadenfreude - 2 |
| Power Bond | Power Efficiency |
|   |   |
|   |   |
| HARD | HARD |
| Champion Boost 100% | Champion Boost 100% |
| Health Boost 75% | Health Boost 75% |
| Hazard Shift - Incinerate and Poison | Hazard Shift - Incinerate and Poison |
| Blood in the Water - 1 | Schadenfreude - 1 |
|   | Supercharge |
|   |   |
|   |   |
| INTERMEDIATE | INTERMEDIATE |
| Champion Boost 75% | Champion Boost 75% |
| Health Boost 25% | Health Boost 25% |
| Shifting Immunities | Biohazard |
| Blood in the Water - 1 | Schadenfreude - 1 |
|   |   |
| | |
| --- | --- |
| Node 47 |   |
| OLD | NEW |
| EXPERT | EXPERT |
| Champion Boost 200% | Champion Boost 200% |
| Health Boost 100% | Health Boost 100% |
| Kinetic Transference - 3 | Rich get Richer - 3 (Power Gain) |
| Feat of Indestructible 2 | Aspect of Evolution |
| Opportunist - 3 | Feats of Power |
|   | Mystic Ward - 80 |
|   |   |
| CHALLENGER | CHALLENGER |
| Champion Boost 150% | Champion Boost 150% |
| Health Boost 75% | Health Boost 75% |
| Kinetic Transference - 2 | Rich get Richer - 3 (Power Gain) |
| Feat of Indestructible 2 | Aspect of Evolution |
| Opportunist - 2 | Personal Space |
|   | Mystic Ward - 80 |
|   |   |
| HARD | HARD |
| Champion Boost 150% | Champion Boost 150% |
| Health Boost 75% | Health Boost 75% |
| Kinetic Transference - 1 | Rich get Richer - 2 (Power Gain) |
| Feat of Indestructible - 2 | Personal Space |
| Opportunist - 1 | Mystic Ward - 80 |
|   |   |
|   |   |
| INTERMEDIATE | INTERMEDIATE |
| Champion Boost 100% | Champion Boost 100% |
| Health Boost 50% | Health Boost 50% |
| Kinetic Transference - 1 | Rich get Richer - 1 (Power Gain) |
| Feat of Vigilance - 2 | Personal Space |
|   | Mystic Ward - 65 |
Post edited by Kabam Zibiit on