Get a Free 3-6 Star Baron Zemo this Week!
Log in to the Summoner's Market at
https://store.playcontestofchampions.com/
and claim the Baron Zemo Selector between 10am PT November 24 and 10am PT on December 1st.
Proven and Below: 3-Star
Conqueror/Uncollected: 4-Star
Cavalier/Thronebreaker: 5-Star
Paragon/Valiant: 6-Star
You can only claim this Baron Zemo one time. The Baron Zemo is delivered as a selector, claiming it will require you to choose your rarity immediately. If you plan to change your Progression level during the Cyber Week event, we suggest you wait until you have made that change before claiming this selector.
Alliance War Matchmaking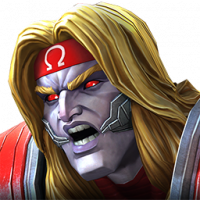 sleimon
Posts: 34
★
There needs to be some serious changes with the alliance war matchmaking algorithm. I'm currently in GT40, we're first this season as of now and we have had to match every serious contender for top spot twice. The alliances that are second and third, have barely matched any masters alliances. The alliance in second place (D69) has matched a masters alliance 3/11 times with the rest being alliances in platinum 1-3 despite being second in terms of points and W/L record. They've essentially been gifted a spot in the top 3 completely based off matchmaking. Any alliance can be a top 3 war alliance if matchmaking favours them, actually being the best doesn't seem to matter with how matchmaking is right now.