**UPDATES TO ENLISTMENT GIFTING EVENT:**
To prevent exploitation, we will prevent new Accounts from being able to Gift enlistment crystals. We will also be taking action on those who are using 3rd Party Sellers, Bots and other farms to gift themselves mass amounts of Enlistment Crystals. Lastly, we will be adding an expiration timer to Enlistment Crystals. All unopened Enlistment Crystals will expire on Oct 18 @ 17:00 UTC. For more information, please see this post:
https://forums.playcontestofchampions.com/en/discussion/346104/updates-to-enlistment-gifting-event
Diablo without MD or Moleman without Deep Wounds?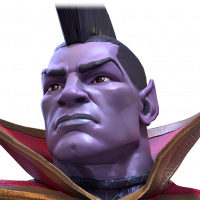 Polygon
Posts: 2,749
★★★★★
I run suicides

With suicides, you can only run deep wounds or MD, but not both.

I'm torn between r4ing KP or MM because MM benefits more from suicides whereas KP sp1 is better than the sp2 for most of the time , since it gives less attack rating and DAAR. So you end up losing more health from recoil, but the r4 can potentially end fights faster with higher attack and more health (for health loss from liquid courage/double edge)

Moleman shreds with suicides and takes off so much health before recoil even makes a difference, but he benefits a ton from max deep wounds.

But if I max deep wounds, I can't fit points into MD for diablo, who's also very good with suicides.
Diablo without MD or Moleman without Deep Wounds?
35 votes
Post edited by Kabam Valkyrie on