Happy 2023, Summoners! Welcome to Mojo's Choice!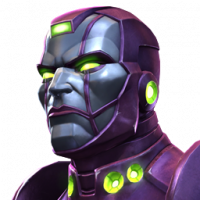 MCOC Team
Posts: 398
Administrator∙Moderator ›
Happy New Year, Summoners!
To celebrate the beginning of the NINTH year of Marvel Contest of Champions, we have our monthly Side Quest: Mojo's Choice and, later in the month, the return of the Lunar New Year event (more details to follow)!
Mojo's Choice
Mojo is running his own "Mojo's Choice" event this year, and the Summoner can help by being his flunky. Challenge the "best" the Contest has to offer and submit your votes! A new Quest and vote will be available each week. It's worth noting, Mojo probably doesn't care who you vote for.
Start: 01/11/2023 @ 18:00 UTC
End: 02/08/2023 @ 18:00 UTC
Format
4, weekly side-quests, one released each week, two paths each (one with buff nodes, one without)
1 energy per step
5 difficulties including the *NEW* Thronebreaker difficulty
Rewards reworked to scale to Thronebreaker progression
Collect Mojo's Choice Crystal Shards from log-in calendar and open Crystals
Complete two sets of Solo Objectives for additional rewards
How to Vote
Each week, Summoners will receive an in-game mail from Mojo which includes a Mojo's Choice Vote item. Use these items to purchase a Mojo's Choice Ballot Box from the Featured tab of the Store in order to submit your "Vote" and collect exclusive Mojo themed profile pics.
Difficulty Update is HERE!
The long awaited difficulty rebalance is here and has brought a new challenge aimed at Thronebreaker+ Summoners! As a result, the naming conventions you've been familiar with for so long have changed! We are introducing scaling Threat Levels to replace Heroic, Master, Epic, Legendary difficulties.


Threat Level 1 - Targeting Proven
Threat Level 2 - Conqueror
Threat Level 3 - Uncollected
Threat Level 4 - Cavalier
Threat Level 5 - Thronebreaker+
Log-in Calendar
The following calendar resets every week for a total of four weeks of log-in rewards. 
Account must be Proven progression or higher.
Start: 01/11/2023 @ 00:00 UTC
End: 02/08/2023 @ 00:00 UTC
Solo Objectives
Event Rewards
Mojo's Choice Crystals
Open Mojo's Choice Crystals between Jan 11th, 2023 @ 18:00 UTC and Feb 15th, 2023 @ 18:00 UTC for your chance to add the following Champions to your roster! A 2-Star Collector Crystal with the same champions will also be available!

Magneto, Nimrod, Falcon, Hulk (Ragnarok), Human Torch, Sentinel, Ultron, Black Panther, Captain Britain, Doctor Voodoo, Hawkeye, Iron Man (Infinity War), Longshot, Professor X, Scarlet Witch, Sersi, Spider-Man (Miles Morales), The Hood, America Chavez, Ant-Man, Black Widow, Gorr, Hulk, Jubilee, M.O.D.O.K., Magneto (House of X), Rogue, Thor, Thor (Jane Foster), Thor (Ragnarok), Black Bolt, King Groot, Korg, Psylocke, Beast