Get a Free 3-6 Star Baron Zemo this Week!
Log in to the Summoner's Market at
https://store.playcontestofchampions.com/
and claim the Baron Zemo Selector between 10am PT November 24 and 10am PT on December 1st.
Proven and Below: 3-Star
Conqueror/Uncollected: 4-Star
Cavalier/Thronebreaker: 5-Star
Paragon/Valiant: 6-Star
You can only claim this Baron Zemo one time. The Baron Zemo is delivered as a selector, claiming it will require you to choose your rarity immediately. If you plan to change your Progression level during the Cyber Week event, we suggest you wait until you have made that change before claiming this selector.
My thoughts at TB difficulty after exploration
BuggyDClown
Posts: 2,003
★★★★★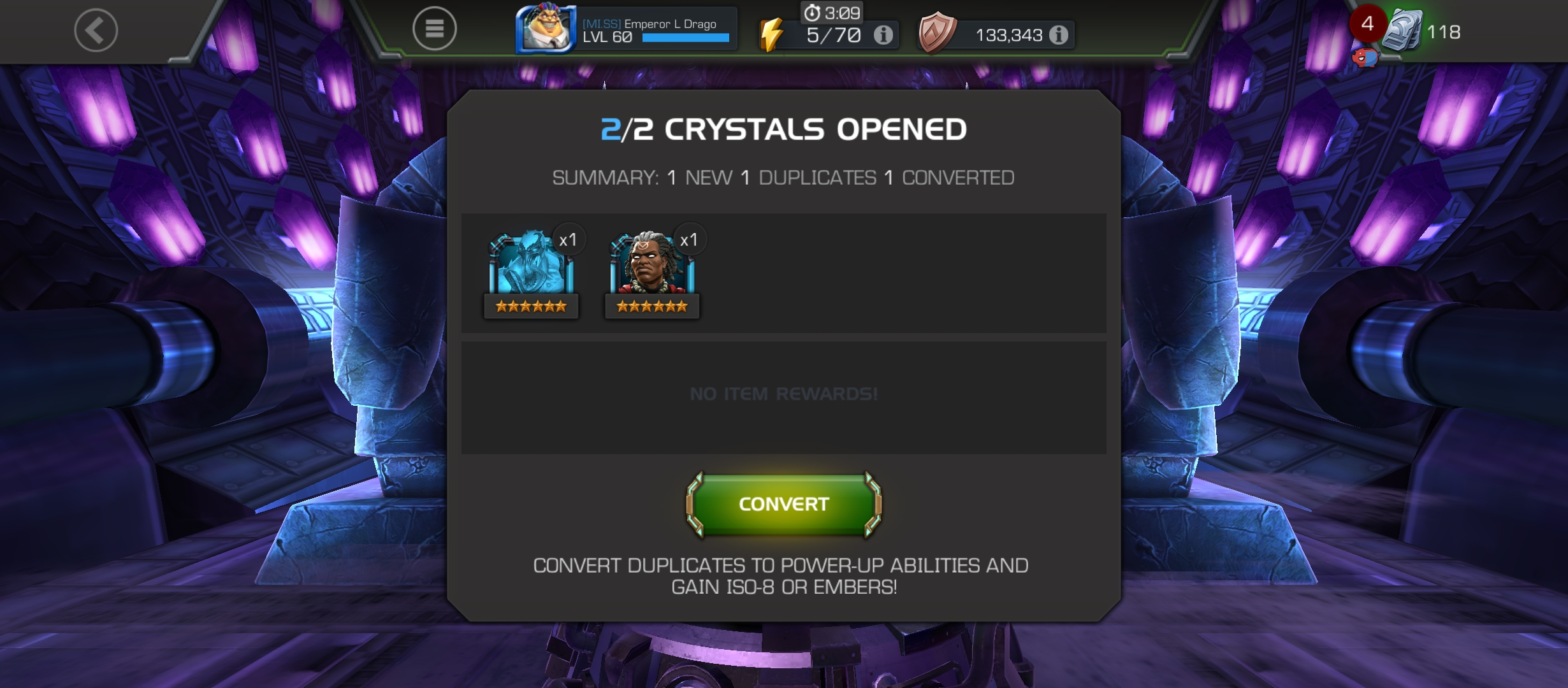 I explored the TB difficulty because i was very excited for it. First of all i am Paragon player so my thoughts comes differently than TB players.
For me it was letdown because i expected something interactive and innovative challenge. It feels like TB difficulty was pushed in hurry. It feels unpolished to me as some lanes like in mystic didn't even made sense. Then there were certain defenders as well who were placed without a thought; regarding their interaction with nodes. TBH it's cav eq with 20-30% increase in HP pools that's it.
Tho i expected more hp pool but since in TB domain there are lot of players who have 1 r3 to rosters stacked with Many r3s. For early and mid TB , it's going to be really awesome amd challenging content imo. Seems a perfect content to make them grow.
As i said , as Paragon players rewards seems kinda okish. R4 mats are good and gold was really solid but apart from that nothing excited me much. But on positive side, if i was a TB player, I would really push for exploration as those rewards are really solid for such accounts imo. But still some rewards can get some more buff like T4cc selector can be increased by 2 in each chapter, 4-5k more 6 star shards will be perfect.. that's it.
It was still quite good time killer for me as it was lengthy than cav eq not by much margin but still quite good in terms of fighting time. Will suggest to make nodes more interactive rather than placing KG on power burn path 🗿🗿🗿. But since its first eq, let's hope things change for good next time.