**UPDATES TO ENLISTMENT GIFTING EVENT:**
To prevent exploitation, we will prevent new Accounts from being able to Gift enlistment crystals. We will also be taking action on those who are using 3rd Party Sellers, Bots and other farms to gift themselves mass amounts of Enlistment Crystals. Lastly, we will be adding an expiration timer to Enlistment Crystals. All unopened Enlistment Crystals will expire on Oct 18 @ 17:00 UTC. For more information, please see this post:
https://forums.playcontestofchampions.com/en/discussion/346104/updates-to-enlistment-gifting-event
Balance Update: Shocker and Sandman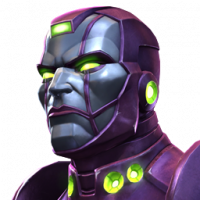 MCOC Team
Posts: 460
Administrator∙Moderator ›
Hello Summoners!

Balance Team here again with an update on the latest round of Champions up for review, Shocker and Sandman!
Shocker
Shocker entered the contest aimed at battlegrounds and war. Armed with a massive heavy attack and the ability to never crit, he was intended to be able to thrive in a variety of matchups. At the moment Shocker only reaches his potential versus certain mutant targets and he falls short outside of that. For that reason we have decided to give Shocker a tune up! The goal of Shocker's tune up is for his damage to be stronger and more viable over a wider variety of defenders in battlegrounds. On top of damage, we will be looking at making some quality of life improvements in his kit!

Additionally, we will be adding a stack limit of 1 to the cowardice in his synergy with Spider-man (Symbiote). This synergy is more powerful than we had intended it to be and want it to remain valuable but not be as game changing.

Overall we think that Shocker will be stronger than ever and be more capable of dealing with a wider range of matchup in the modes we want him to be the most fearsome.
Sandman
Sandman arrived with the tools to handle most game modes: scaling for long fights, Utility for tough Mystic matchups, and versatile loop options. We're happy to see that he's being used across game modes and matchups, especially the most recent Gladiator's Circuit node combo featuring Regeneration.

One trend we're seeing with Sandman is a large variance in performance between matchups that allow him to safely use his Sp3 (good) compared to those that require or encourage his Sp1/Sp2 (lower than target). This is largely due to his burst damage scaling best with debuff count instead of Attack Rating. To bolster damage access within Sandman's more utility-focused loops, we're exploring a change for his bursts of Physical Damage that would shift their scaling from primarily reliant on debuff count to scaling off modified Attack Rating – something all his loops can access through his Unstable Fury and Heavy Proficiencies. While we want to increase the impact of Attack and lower the impact of debuff count in order to lessen the damage gap of the Sp3 vs Sp1/Sp2 loop, we still want to preserve the identity of his Sp3 loop being the largest source of damage and his other loops holding more utility.

As always, we'll be closely monitoring feedback about this tradeoff during his upcoming beta so we can ensure he lands in a spot that Summoners find both powerful and satisfying.

What's Next
Changes to both Shocker and Sandman! Their timeline will look like:
41.1 (September) + 41.2 (October) Beta builds
41.3 (November): Full release with changes