UPDATE: A new Hotfix (v32.2.3) is now being released to address this issue. Please keep an eye on your App Store for this update to address the below issue.
We are currently experiencing an Error when Summoners view a Champion's Synergies while in the Champion Selection screen in Arenas and Duels. We are aware of this issue and are working on a Hotfix to address it. In the meantime, please avoid using the synergy menu to prevent this error and crash. We apologize for this inconvenience. Updates will be posted here:
https://forums.playcontestofchampions.com/en/discussion/293506/error-when-looking-at-synergies-from-champion-selection-screen
Your 6* Boss rush!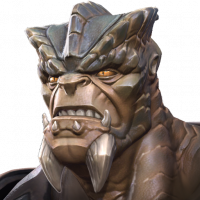 charaderdude2
Posts: 1,530
★★★
Ayyy,So,Now that I pulled you in,I'd like everyone to extensively list 6 picks,nodes,and,if you want to,PI,Attack And Health(Estimates,dont kill me).Another optional thing is to list counters.

My picks,
1)M.O.D.O.K:
R2/31
PI:26k
Health:96k
Attack:6k
Nodes:+160% Attack and Health,+50 attack,+35% health,Parry.
Counters:Any champ with a true strike mechanic
Cable,needs a s3 so not ideal,Karnak,Is the best,True strike with an s1
2)Kang
R3/4
PI:31k
Health:140k
Attack:6.8k
Nodes:Explosive Personality,+180% Attack and health,Breakthrough,Feats of power.
Counters:High damage,Nullifying,Scarlet witch
3)Thanos
R3/23
Health:150k
Attack:8.6k
Nodes:Safeguard,+200% Attack and Health,Power shield,Flare,Degeneration,Life transfer
Counters:High damage/power gainer,Hyperion
4)Maestro
R4/4
Health:210k
Attack 9k
Nodes:Role Reversal,Gamblers Ruin,+300% Attack and Health,Power gain +200%
Counter:Careful Skill,and Never using Specials until you get a great buff like permanent regen!
5)Ultron Prime
R5/36
Health:300k
Attack:11k
Nodes:Enhanced Abilities,+360% Attack and Health,Vigor
Counter:Idk,Not there yet.
6)The Collector
R5/65
Health:500k
Attack:Infinite
Nodes:+600% Health,Infinite Attack,Enhanced Shield(Inverse of Power shield),Shield Inversor (Puts the effect of the shield on the defender)
Counters:Whales.
If this isn't whale-worthy,I dunno what is.
Please. S:Did you see the attack "infinite" gig,It basically means,"One hit,and you ded,boi!"