Your 6* Boss rush!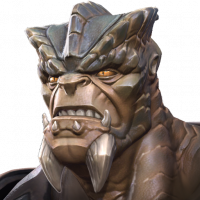 charaderdude2
Posts: 1,529
★★★
Ayyy,So,Now that I pulled you in,I'd like everyone to extensively list 6 picks,nodes,and,if you want to,PI,Attack And Health(Estimates,dont kill me).Another optional thing is to list counters.

My picks,
1)M.O.D.O.K:
R2/31
PI:26k
Health:96k
Attack:6k
Nodes:+160% Attack and Health,+50 attack,+35% health,Parry.
Counters:Any champ with a true strike mechanic
Cable,needs a s3 so not ideal,Karnak,Is the best,True strike with an s1
2)Kang
R3/4
PI:31k
Health:140k
Attack:6.8k
Nodes:Explosive Personality,+180% Attack and health,Breakthrough,Feats of power.
Counters:High damage,Nullifying,Scarlet witch
3)Thanos
R3/23
Health:150k
Attack:8.6k
Nodes:Safeguard,+200% Attack and Health,Power shield,Flare,Degeneration,Life transfer
Counters:High damage/power gainer,Hyperion
4)Maestro
R4/4
Health:210k
Attack 9k
Nodes:Role Reversal,Gamblers Ruin,+300% Attack and Health,Power gain +200%
Counter:Careful Skill,and Never using Specials until you get a great buff like permanent regen!
5)Ultron Prime
R5/36
Health:300k
Attack:11k
Nodes:Enhanced Abilities,+360% Attack and Health,Vigor
Counter:Idk,Not there yet.
6)The Collector
R5/65
Health:500k
Attack:Infinite
Nodes:+600% Health,Infinite Attack,Enhanced Shield(Inverse of Power shield),Shield Inversor (Puts the effect of the shield on the defender)
Counters:Whales.
If this isn't whale-worthy,I dunno what is.
Please. S:Did you see the attack "infinite" gig,It basically means,"One hit,and you ded,boi!"