We are currently experiencing an issue causing a delay in delivery of Summoner Advancement, the Alliance Quest event, and other 3-Day X-Men use event. We are working to resolve this, but it will likely take a few days. We will ensure that these rewards are delivered to affected Alliances. Please do not change Alliances until your rewards are delivered.
Next Featured 5* Crystal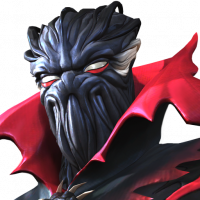 Crazyjack719
Posts: 392
★★
Dear Kabam,

Have you decided which basic champs you will be putting into the next Featured pool alongside Gladiator Hulk, Killmonger, Bishop, Sentinel, Sabretooth and Proxima Midnight/Corvus Glaive?

If so, could you please let us know so that those of us willing to risk the extra cost at a 4% chance at a champ we want will know whether it is worth the risk.

PS: I know the featured 5* is pretty lame, but I have enjoyed the reviews of the first 5 of those champs and 3/6 of my 5* are Gambit, She hulk and Kamala Khan. So im really looking for any chance at getting a 5* that I would enjoy playing and would be my first option to r3 and r4.

Thanks for listening Kabam, please make good decisions, otherwise I fear that the Collector will be overthrowing the Grandmaster again for the chance to provide us with the old Featured 5* Crystal.
This discussion has been closed.