We are currently experiencing an issue causing a delay in delivery of Summoner Advancement, the Alliance Quest event, and other 3-Day X-Men use event. We are working to resolve this, but it will likely take a few days. We will ensure that these rewards are delivered to affected Alliances. Please do not change Alliances until your rewards are delivered.
Constructive Critcism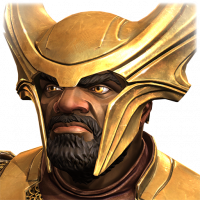 Tasty_Yum_Yums
Posts: 395
★★★
While a free item is free and you shouldn't complain, I don't understand the support team crystal.

For anyone that's been playing the game for a few months, 99.9% of what they pull will not be of any value to them. So you look at newer players and they might get some value from it. Cool for them and I hope they get the 4* out of it.

For the support team to show good faith in a relationship that only helps new players, leaves the vast majority of the player base wondering what gives?

I'm by no means suggesting an end game item or 5* crystal, but merely suggesting that a good show of faith by the support should have some value to all. Maybe you have a loyalty crystal for how long you've played. Maybe you make the crystal random 4*, 5*, and a very rare chance to pull 500 6* shards.