Featured 5-Star Champion Crystal - July 31 2018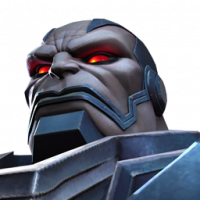 Kabam Miike
Posts: 6,786
Administrator ›
Summoners!

The availability of the current 5-Star Featured Hero Crystal is coming to an end in just one week! The next one will be available on July 31st. Here are the Champions that it contains:

Domino
Psylocke
Colossus
Archangel
Masacre
Black Panther (Civil War)
Falcon
Winter Soldier
Captain America (Infinity War)
Wasp
Spider-Man (Miles Morales)
Hulk
Loki
Juggernaut
Ghost Rider
Magik
Corvus Glaive
Groot
Hela
Hyperion
Iron Man (Infinity War)
Ultron
Vulture
Iron Patriot

This is a brand new crystal that will be replacing the current Featured 5-Star Hero Crystal. Any crystals that you have already purchased or received will not be updated to this new crystal.