CHAMPION BUG REPORT – Nightcrawler

Mirage_Turtle
Posts: 1,027
Description of Bug:
Nightcrawler is able to passively evade mid-special attack after being struck.
Under normal circumstances, Nightcrawler cannot passively evade attacks while he is stunned. Additionally, Nightcrawler is unable to passively evade after being hit with a multi-hit special attack. He innately has a chance to passively evade the first strike, but if that first strike connects, the rest of the hits from the special will also connect with no chance for him to evade them.
The bug seems to come in when Nightcrawler is stunned and then is quickly hit with a special attack. It seems that when the stun wears off, Nightcrawler gets a fresh chance to passively evade the next incoming attack even if an earlier part of the special attack already hit him. If he's stunned and gets hit with the first part of a special attack, he shouldn't have any chance to passively evade any of the other hits from the special attack when the stun wears off. Currently, he is able to evade mid-special in this fashion.
This happened to me in my very first fight of AW season 4. I had Nightcrawler stunned, I hit him with the first hit of the special, then stun wore off, and he evaded the second hit, which left me vulnerable to a counterattack which ultimately killed me.
Credit to
@ezgoing
for creating a video that captures this bug. It can be found here:
https://forums.playcontestofchampions.com/en/discussion/comment/563766#Comment_563766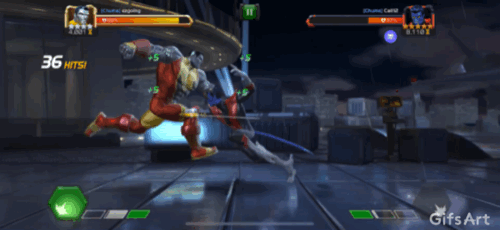 Device and Version:
iPhone SE
Device Operating System:
iOS 11.4.1
Mobile Carrier:
Verizon
Cellular or Wifi:
Both
Game Version Installed:
20.0.1
Game Mode:
Alliance War, Duels
Champions Affected:
Nightcrawler
Active Boosts:
None
Post edited by Kabam Vydious on