All i see is complaning, these days, kids these days dont know the struggle when the game came out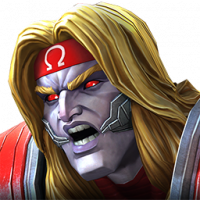 ContestOfNoobs
Posts: 1,374
★★★★
1. masteries wasn't even athing

2. 4* weren't even a common thing, let alone get shards for dupes. the first guaranteed 4* was $100 og vision. I have spinned many crystals and didn't get 4*. THESE days new accounts have a HIGH chance of pulling 4* very early...witch lead to my next point of how I got my firsr 4* oh and no shard farming from dupes.

3. my first 4* was 100% exploration of act 3, from a 4* crystal and I was level 30+ no masteries all 3 *,

4. the very first arenas I played was with 2* grinding for 3* champs where I played nonstop when the game came out just to reach top 5% if I can remember for a 3*..a 3* was the meta of the game, I remember scoring 350k to get 3* hawkeye. again no shard farming from dupes.

5. Beginner/Intermediate arenas? na forget about it, when the game came out it was a foot race to the arena and whoever spent money had a headstart, also no shard farming fromes dupes.

6. alliances? and missions? yea non existent, no shard farming from mission.

7. Aq/War? yeah ok non existent again, no shard farming yet again.

anyways theres my rant from a person who played mcoc back in the day. I could start a new account and make up so much progress in 2 first months vs my 1st year of playing mcoc when it came out.
T4B basics was a myth let that sync in.


This discussion has been closed.