UPDATE: A new Hotfix (v32.2.3) is now being released to address this issue. Please keep an eye on your App Store for this update to address the below issue.
We are currently experiencing an Error when Summoners view a Champion's Synergies while in the Champion Selection screen in Arenas and Duels. We are aware of this issue and are working on a Hotfix to address it. In the meantime, please avoid using the synergy menu to prevent this error and crash. We apologize for this inconvenience. Updates will be posted here:
https://forums.playcontestofchampions.com/en/discussion/293506/error-when-looking-at-synergies-from-champion-selection-screen
Great champs that aren't talked about enough.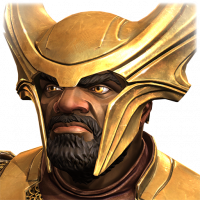 ẞlооd
Posts: 1,960
★★★★
Which champs do you guys think are really great and/or useful that people don't talk about enough? I'm gonna start with Sentinel.

He's been one of my top and most used champs since I pulled him over half a year ago. Great damage once ramped up, double immunity, and some nice utility. Besides the variants, I feel like he doesn't get much mentioning. Just trying to get the word out for newer players of some of lesser known champs that are still amazing.