Summoners, due to a technical issue, this week's series of Alliance Quests will be cancelled at 4pm PT. There will not be any Rewards for this series. The next series of Alliance Quests will start on April 18 at 12pm PT. We will be assessing the impact on Alliances and compensating accordingly, as well as returning Alliance Tickets.
Wasp Passive Stun is not working (sometimes)

Carmel1
Posts: 403
★★
in the last few weeks (maybe a month) sometimes Wasp and her passive stun from chaining heavy in her combo is not working.
there is old thread from about 6 months ago with the same problem. you fixed it and now it happens again.
link to the old thread:
https://forums.playcontestofchampions.com/en/discussion/158034/comboing-into-a-heavy-attack-with-wasp-title-edited-for-clarity#latest
i've tried to update the old thread with the bug coming back and you deleted my post
i've tried to open a new thread with the bug and you deleted it too (three times)
you haven't close the thread or gave any reason... you just deleted it like you were trying to silence this bug...
after the third time you even gave me a warning that it's against the rules to post something in old thread or open a new thread without providing proof of the bug (like any other bug here has a video as a proof).
so i'll try to do it again, hopefully without giving you any excuse to delete the post.
The Problem:
- Sometimes when chaining heavy in middle of combo with Wasp, it doesn't trigger her passive stun.
Game Mode:
- everywhere (arena, event quest, rifts)
- against different champs (black widow CV, hood, symbiods\minion, also other classes)
- there are no node that supposed to make it fail like ability reduction, stun immune, etc... and as you'll see in the video below, even without nodes at all.
Game version:
- the video below is after the latest update 27.1.0, but it happened also in the previous version
Device info:
- iPhone 11
- the video below is with iOS version 13.5, but it happened also in the previous version
here is the video taken last night:
as you can see, 1st an 4th heavy trigger the passive stun. but 2nd and 3rd heavy failed (in my 3rd heavy i still able to land my hit even without the passive stun, but in my 2nd it got countered)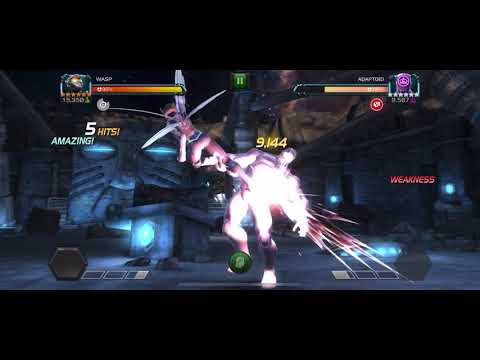 Wasp has a low health and she rely a lot on her heavy attack. without the guaranteed heavy i can't really use her for AQ\AW and now need to bench her again.
if you need any other information please ask instead of deleting the thread.
Thanks