**KNOWN ISSUE**
An unknown error has resulted in Grandmaster Gauntlet progress being reset for a portion of our playerbase. As a result, we will be temporarily removing the Grandmaster Gauntlet as a playable mode. The mode will be reinstated when the team has resolved the issues.
**KNOWN ISSUE**
There appears to be a bug causing missing VFX (visual effects) for a number of elements including traps, phasing and some blocking animations.
The team is aware and looking into the cause of the issue.
I am stuck !!!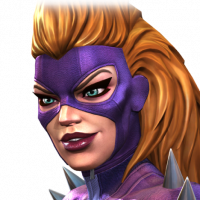 Dashamtvamasiay
Posts: 81
★
I am stuck in act 6.1.6 at the sentinel boss. I took the all or nothing path and wrecked majority of the opponents in this path with stark spidey but that electro !! My stark spidey already took a lot of block damage ( I don't keep evading for the whole fight) and that electro killed all my champions! So I used a team revive there and then now I am stuck at the sentinel boss (he's at 60% health now) .
I want to complete this as soon as possible(within 2 days) , so that I can do a couple more of hotel modoks and get that cavalier offer of 15k shards in the store.
So my questions are:-
1)is it possible to grind enough arena in 2 days to reach 200 units for revives?
2) how should I be fighting this sentinel, blocking him or fully dodging and baiting him?
3) should I use those 200 units on 2 team revives or individuals revives on Corvus(5/65)?