Anyone have videos of Colossus in Abyss?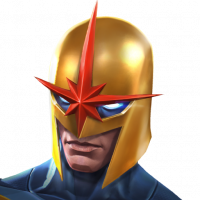 altavista
Posts: 870
★★★★
Hi all,

I've read on the forums of how Colossus (+Omega Red) is a viable candidate for Abyss.

I did a test run, bringing Colossus + OR + CapIW + NF + Void just to see how much damage I could do with all these champions that do well in the Abyss (Youtubers seem to be able to 'solo' with some of these champions, but I definitely am not as good; I am realistically anticipating never soloing anyone).

Colossus vs the Thing, played sloppy and took off 382841 health (~14% health).
CapIW vs the Thing and took off 252729 (~9% health).
Nick Fury vs the Thing, and took off 146114 (~5% health).
Void vs the Thing and took off 92952 (~3-4% health).

This was just one attempt, so how each champions would do would certainly improve with more practice runs. I forgot that CAIW doesn't nullify the passive unstoppable; and I got trapped in the corner for most of them in the end. More practice will definitely improve their performance.

But on its face, it seems like Colossus + OR has a ton of upside as the main damage dealer.

I have tried searching the forums and searching youtube, but haven't seen any videos (search terms like 'colossus abyss' or 'colossus aol').

However, before I commit to a Colossus + OR based team, does anyone have any videos of Colossus in Abyss against champions further on in the path?